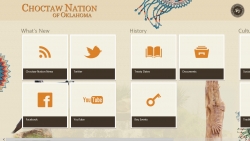 Germantown, MD, June 11, 2013 --(
PR.com
)-- Planet Technologies, the leading Microsoft consulting and services company, announced today the launch of Choctaw Nation of Oklahoma's Windows 8 application. This is the first Native American tribal application available for download from the Windows 8 Marketplace.
Choctaw Nation partnered with Planet Technologies to develop a Windows 8 based application that provides a comprehensive array of information about the tribe including in-depth tribal history, treaty dates, events, culture and heritage information. In addition, the user can leverage dynamic content from Twitter, Facebook and You Tube.
"The Choctaw Nation has a venerable heritage and is investing in the advancement of their community. This Windows 8 application provides a platform for showcasing this information and we are very proud to have worked with them in its development," states Scott Tucker, President and CEO of Planet Technologies, Inc.
Choctaw Nation's application is the latest in Planet's successful history of creating Microsoft Windows 8 and mobile applications for their clients who include public sector and commercial clients.