Damnation Books Releases New Horror Title at the World Horror Convention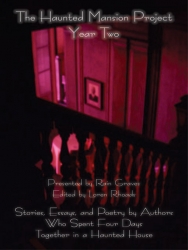 Santa Rosa, CA, June 13, 2013 --(
PR.com
)-- Damnation Books is releasing The Haunted Mansion Project: Year Two at the World Horror Convention in New Orleans on 13 June 2013.
Damnation Books presents The Haunted Mansion Project: Year Two an anthology of short horror stories. Damnation Books is owned by William and Kim Richards Gilchrist. Their continuing mission is to bring darned good dark fiction to e-readers everywhere at a darn good price.
In the fall of 2012, seventeen horror writers and artists met in Northern California to spend four days together in a haunted mansion. Ten of them were survivors of the original Haunted Mansion Writers Retreat; the rest were virgins who encountered the house and its denizens for the first time. Joining them was the group of paranormal investigators who had recorded a plethora of EVPs as well as anomalous lights and ominous shadows in the mansion in 2010. This anthology collects short stories and poetry—as well as real impressions and investigative conclusions—inspired by that long weekend.
Contributors include:
· Nicole Boscia
· S.G. Browne
· Christian Colvin
· Alexa deMonterice
· Fran Friel
· Kristin Galvin
· William Gilchrist
· Sèphera Girón
· Stacey Graham
· Rain Graves
· E.S. Magill
· Chris Marrs
· Rena Mason
· Angel Leigh McCoy
· Lisa Morton
· Yvonne Navarro
· Weston Ochse
· Kim Richards
· Loren Rhoads
· Kay Sundstrom
· Dan Weidman
· Steve Weidman
This title can be purchased from Damnation Books in e-formats compatible with Nooks, iPads, Kindles, smartphones and other popular e-readers available at this time.
http://damnationbooks.com/book.php?isbn=9781615729173
Contact eternalpresspromotions@gmail.com for more information.
Contact
Damnation Books
Sally Franklin Christie
406-209-1403
http://damnationbooks.com

Contact