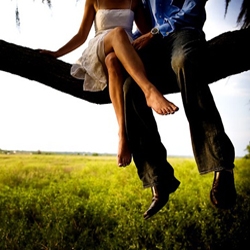 San Francisco, CA, June 13, 2013 --(
PR.com
)-- New "Forever&ever" promises to both strengthen and save relationships.
Joy of Romance, Inc. announces "Forever&ever." Through a comprehensive relational process including interviews, photo sessions and compilation of memorabilia, the personalized Forever&ever physical book and audio version of a couple's love story is designed to illustrate and preserve the early stages of attraction, romance and foundation of their relationship. Whether newly engaged or celebrating their 50th anniversary together, this heirloom will be a treasured keepsake for the couple and can be passed down to future generations. According to various studies including 40 years of both rigorous and revolutionary scientific observation of romantic relationships conducted by Dr. John Gottman, in his latest book "What Makes Love Last?" he states that the number one precursor to a lasting, passionate relationship is the ability to keep fondness alive - making regular trips down memory lane a pivotal and important practice.
Joy Nordenstrom, founder and CEO of Joy or Romance, Inc. believes the neurological and emotional benefits of this product can, in some cases, save relationships. "Focusing on appreciation for the things a couple have shared together builds a more intimate connection which strengthens the 'we' in their brains. This supports the hard wiring of neural pathways, integrating shared reward patterns to make relationships stronger."
Joy of Romance has partnered with Karina Louise Photography, White Papers Press design team, Parallel Print Shop, Cherish Films, Sandbox Love Productions and a Grammy Award winning team of audio engineers, lyricists and musicians across the globe to create the basic book and audio package as well as additional services including high quality films and a song written and produced around each client's personal love story.
In conjunction with the official launch of this new service, Joy of Romance will host a Twitter contest in which the grand prize will be a Forever&ever Audio & Book basic package called THE JOY (
http://joyofromance.com/forever-and-ever
). On June 12th through July 12th, 2013 contestants are invited to tweet up to one micro-description of their love for their partner, incorporating @JoyofRomance and the hashtag #forever&ever per day. The top 20 Love tweets selected will be posted on the Joy of Romance Fan Page on Facebook on July 12th, 2013 and on August 12th, 2013 the most voted for micro-Love Story will win the grand prize valued at $2,500.
Joy of Romance, Inc. assists single and married individuals in creating passionate and thriving relationships. Founded in 2005, their services include coaching, matchmaking, creative proposal planning, vow writing, honeymoon and romantic event planning as well as classes and workshops.
For contest rules and regulations, visit www.joyofromance.com/forever-and-ever/lovestorycontest
Or for interviews with Joy M. Nordenstrom, 415-602-1999 or email at joy@joyofromance.com
Joy M. Nordenstrom
415-602-1999
joy@joyofromance.com
www.joyofromance.com
The Resilience of Remembering