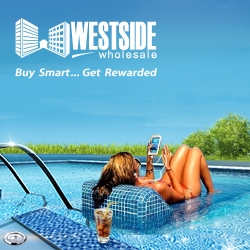 Los Angeles, CA, June 19, 2013 --(
PR.com
)-- Contractors, homeowners, plumbers, HVAC installers, and building managers - your lives just got easier.
WestsideWholesale.com, one of the leading wholesale distributors of electrical, lighting, heating and cooling, air quality, plumbing, security, and pool supplies, has a brand new look and feel. Visitors on the site will quickly experience its improved product search, faster page loads, and wider product selection.
"We wanted to give the website a facelift," said Allen Nazarian, President, "and now is a great time to do it."
One of the main improvements is a better site search. Customers can search the company's thousands and thousands of products quickly with "instant" results, accompanied by high-quality product images. Results have shown that this feature has improved conversion, helping users find the products they need quicker.
Customers have also reported the site's enhanced organization has made it easier to shop. Part of the reorganization included streamlining the departments. Westside Wholesale features a streamlined navigation, showcasing products in the recessed lighting, tankless water heater, bathroom fan, air purifier, and air conditioning categories.
"We listened to our customer base," Nazarian said. "They wanted a better way to find products they need, so we put resources towards that. We're constantly looking for ways to make the site better, and our customers play a big role in that."
Part of the site's enhanced features is its design. The site highlights an image-based navigation, reducing the need to scroll through long blocks of text. The site also offers a mobile version for its thousands of tablet and smartphone customers. The mobile site carries all the products of the desktop version, but is built to be viewed on the go, a huge advantage for contractors or those working on site.
"Speed, convenience, and a wide product selection - that's what WestsideWholesale.com is all about," said Nazarian. "The new site helps you find what you want quickly and easily, while making your purchase a breeze."
Westside Wholesale, Inc. is a Wholesale Distributor for the Electrical, Lighting, Heating & Cooling, Air Quality, Plumbing, Security, Pool Supply, and other related industries. We have multiple warehouses and offices nationwide servicing the United States, Puerto Rico, Canada, and Mexico stocking the majority of products in our catalog. For more information, please visit
www.westsidewholesale.com