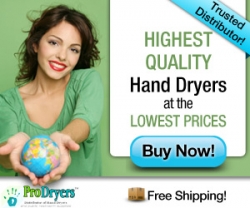 Livonia, MI, June 18, 2013 --(
PR.com
)-- The company started its first website, ProDryers.com which specializes in major brand hand dryers, back in 2006. Launching with the American Dryer ExtremeAir high speed hand dryer, ProDryers quickly caught the interest of other manufacturers. Within a few short years, ProDryers has become one of the top 3 hand dryer distributors in the United States by offering the absolute best pricing, free shipping, and educational assistance in providing its customers with the best solution for each specific job. We all know
hand dryers
save money vs. paper towel. But not all hand dryers are created equal and some fit the specific needs of one project better than others. ProDryers offers that level of expertise. ProDryers has become one of the most trusted names in the hand dryer industry with public reviews to prove it. With the addition of ProDrinkingFountains and ProFloorMachines, Category Five Technologies expects to double annual gross sales by 2015.
Category Five Technologies, Inc. was started in 2003. The company is structured with a high level of technical expertise, but an equal level of customer service. Category Five Technologies offers what many other industrial supply companies lack; top quality customer service with sincerity. Customers have come to know they can rely on the customer service team; customer service is the most important company attribute at the end of the day. Unfortunately, issues arise with all businesses. The company's elite customer service team is standing by and ready. A real person can always be reached during normal business hours.
Controlled growth has been an important ingredient to the success of the company. Careful consideration and planning has been implemented ensuring the team is properly staffed and equipped to handle the variety of customer service calls related to supplying over 2500 restroom products, over 1,000
floor machines
, over 1,000
drinking fountains
, along with the largest selection of hand dryers available anywhere. The company is stepping into a new phase of growth with manufacturers such as Elkay, Halsey Taylor, Clarke, and more. These manufacturers represent top level quality products in the drinking fountain and floor machine industries. Category Five Technologies is focusing on pushing into these new markets using the same strategies that catapulted ProDryers to the top.
By cross promoting the restroom industry with the drinking fountain and floor machine industries, Category Five Technologies is finding a clear potential for increased sales volume on all levels. It makes perfect sense as most of the businesses that purchase hand dryers and restroom supplies could also be good candidates for saving money by reducing the time spent on cleaning floors and reducing water expenses by offering quick energy efficient drinking solutions from top brand drinking fountains such as the
Oasis PG8AC
. All three markets share a common characteristic. Companies can reduce costs significantly using hand dryers, floor machines, and drinking fountains.
Category Five Technologies is a technical company specializing in the creation and operation of niche market eCommerce sites. Many of the high demand products are stocked at the Livonia, MI warehouses which enable fast free shipping. Earning customer trust with a high level of satisfaction and elite customer service is the #1 goal of the company.
For more information about Category Five Technologies, contact Anthony DiCicco, CEO at 888-50-DRYER.