CURT Manufacturing Makes Gooseneck Hitch Installation "EZr"
Under-Bed Double Lock EZr Gooseneck Hitch Features CURT Exclusive Center Locator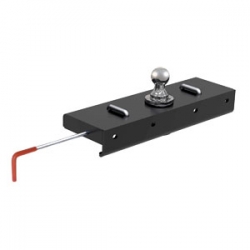 Eau Claire, WI, June 20, 2013 --(
PR.com
)-- CURT Manufacturing, a leading manufacturer and marketer of top-quality towing products, is excited to announce their new Under-Bed Double Lock EZr Gooseneck Hitch. This gooseneck hitch comes install-ready with the revolutionary, CURT exclusive center locator.
The Under-Bed Double Lock EZr Gooseneck Hitch was designed with the installer in mind. It is not just a new hitch; it is a system that will make the entire installation process smoother and faster. The new EZr hitch has all the great features of the original Double Lock gooseneck by CURT, with several new features: it eliminates the need to lower the exhaust on Ford, Chevy and most Dodge trucks for installation, relocating the cable hanger and ground wire on Dodge trucks is no longer necessary, and it utilizes carriage bolts that only require one tool to install. The CURT exclusive center locator is a patent pending installation tool which eliminates the need to measure where the ball hole should be in the truck bed, saving installer's valuable time and making the installation process worry-free.
The Under-Bed Double Lock Gooseneck Hitch offers a cleaner look than over-bed models. The EZr features a thick, sturdy handle with a comfort grip that won't bend. CURT uses strong, 5/8" safety chain loops ensuring safe and secure towing. The EZr includes an attractive, chrome-plated trim ring and rubber cover making for a finished look after installation. The double-locking pins provide double the pin strength, for peace of mind. When the trailer ball is not in use, simply flip-over the ball, leaving the truck bed free of obstruction while securing the trailer ball. This robust gooseneck hitch has a 30,000 lbs. gross trailer weight capacity and 7,500 lbs. vertical load capacity and is completed with a durable carbide powder coat finish. For a product video showing all the features of the CURT Double Lock EZr gooseneck hitch,
click here
.
About CURT Manufacturing: CURT is a leading manufacturer and marketer of top-quality towing products. The company offers American-made, custom fit receiver hitches and wiring harnesses for nearly any vehicle on the road. They also market a broad range of trailer hitches, towing systems and related accessories. CURT is "The First Name in Towing Products" for automobile and truck hitches, as well as RV, gooseneck and commercial towing systems. Products are marketed through retailers, distributors, installers, and e-tailers across the U.S. and Canada. CURT employs hundreds of associates, primarily at their manufacturing facility and corporate headquarters which is located in Eau Claire, Wisconsin. CURT operates 11 regional warehouses, each carrying over 2,500 items and has been twice named a Wisconsin "Manufacturer of the Year."
For additional information on CURT products, click here:
http://www.curtmfg.com/lp/14/EZr
or call toll free at 1-877-CURTMFG (287-8634)
Contact
CURT Manufacturing
Scott Morrison
715.831.8713
www.curtmfg.com

Contact