Wristbands.net Releases Its Skin Saving Wristbands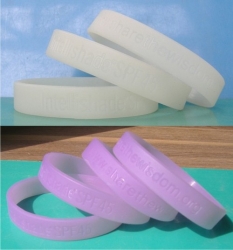 Houston, TX, June 26, 2013 --(
PR.com
)-- Wristbands.net is excited to announce its summer campaign push of the color transition UV wristbands. Last Friday marked the official day of summer, which means it's that time of year again to protect our skin from sun damage. Kids are getting ready to run into the heat of summer camp, jump into the pool and build sand castles on the beach. Adults are prepping for summer marathons, tanning and get involved in a host of summer fun in the sun – all at the unfortunate risk of skin damage and disease. The most dangerous kinds of skin disease and cancer are caused by over exposure in the sun.
What better way to bring skin protection awareness to your community than with a UV wristband that changes color in the sun! The darker it gets the higher the risk. It's the perfect touch of summer flair for awareness. Wear it to the pool, mall, barbecue, beach, etc. There is no minimum order at Wristbands.net. Customize your UV wristband for yourself or to promote your business, represent a fundraiser or charity, or be part of a promo media campaign or advertisement. Tie in an awareness phrase like, "Sun Safety", "Protect Your Skin", or a fun catch phrase like, "Keep Calm and Cover Your Skin".
With it's summer campaign push, Wristbands.net hopes to bring skin protection awareness on every platform within the community. Persons, businesses, and foundations can log onto http://wristbands.net and
customize a UV wristband
on the 3D Wristband Creator. Wristbands.net has over one million wristbands in stock with every color available to color fill or laser engrave your customized design. UV Wristbands can be embossed or debossed with a business name, tag or catch phrase. They can be colored filled or laser engraved with brand colors; or screen printed with logos.
For more information please visit the website or feel free to call Wristbands.net at 1800-433-1758
Contact
Wristbands.net
Yannick Oloughlin
1-800-433-1758
wristbands.net

Contact