CURT Proudly Continues Manufacturing Operations in USA
USA Manufacturer Delivers High Quality, First-to-Market and Environmentally-Friendly Hitches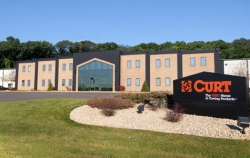 Eau Claire, WI, July 04, 2013 --(
PR.com
)-- CURT Manufacturing, a leading manufacturer and marketer of top-quality towing products, is known to stand for excellence in their products and their people. Because of the importance placed on this, they have continued to focus on manufacturing in the USA. The company's complete line of custom fit receiver hitches and t-connector wiring harnesses, along with many towing accessories are made in the USA.
CURT continues to develop enhanced, first-to-market products for the customer. The receiver hitch line is designed, manufactured, labeled and shipped at their manufacturing headquarters in Eau Claire, Wisconsin. CURT has application coverage for nearly any vehicle on the road today. The company has recently taken commendable steps to further improve their already high-quality receiver hitch finish with a new, environmentally-friendly Aquence® coat (A-coat) technology. In 2010, Aquence® won the Automotive News Pace Award for its environmental benefits, as the technology can reduce a company's production footprint by up to 40% versus the more common E-coat process that many manufacturers use. With the use of A-coat, co-cured with CURT's powder coat finish, the company offers the most corrosion resistant aftermarket hitch available.
"American-made stands for quality products and first-to-market applications. We want to continue creating job opportunities right here in the USA," says Travis Machler, Product and Channel Marketing Manager at CURT. At CURT's Eau Claire, Wisconsin manufacturing facility, they employ over 400 highly skilled, trained associates who take great pride in the quality of products they make. With 11 distribution centers across USA and Canada, CURT will continue to grow and support employment right here in America. To learn more about the company and to watch an Inside CURT video,
click here
.
About CURT Manufacturing: CURT is a leading manufacturer and marketer of top-quality towing products. The company offers American-made, custom fit receiver hitches and wiring harnesses for nearly any vehicle on the road. They also market a broad range of trailer hitches, towing systems and related accessories. CURT is "The First Name in Towing Products" for automobile and truck hitches, as well as RV, gooseneck and commercial towing systems. Products are marketed through retailers, distributors, installers, and e-tailers across the U.S. and Canada. CURT employs hundreds of associates, primarily at their manufacturing facility and corporate headquarters which is located in Eau Claire, Wisconsin. CURT operates 11 regional warehouses, each carrying over 2,500 items and has been twice named a Wisconsin "Manufacturer of the Year."
For additional information on CURT products,
click here
or call toll free at 1-877-CURTMFG (287-8634)
Contact
CURT Manufacturing
Scott Morrison
715.831.8713
www.curtmfg.com

Contact