Mardi Gras Supplies Has Launched a New Website, and with It, a Variety of New Products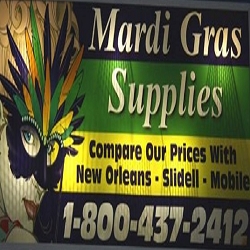 Gulfport, MS, July 06, 2013 --(
PR.com
)-- Mardi Gras Supplies has launched a new website,
Mardi Gras Beads
and with it, a variety of new products. They are sure to have something for everybody. They have a wonderful and expansive collection of
beautiful masks
for all occasions. Look here for your wedding, prom, masquerade ball, or party mask. They have every color you can think of and some of their masks even have ostrich feathers attached. The selection even includes masks for men and for children. While you are there, be sure to check out their Venetian masks that are hand made in Italy.
Another item they have expanded their selection of is
deco mesh ribbon
and the wreath forms to make them. They have a great selection of colors that are metallic and plain. The sizes range from 1.5 inches wide to 21 inches wide. It is even possible to buy wreaths that are already made if you are not the creative type.
The main reason people visit this website is of course for the beads. There are beads in every size, shape, and color you can imagine. They even give you the opportunity to order personalized and custom made beads. These beads cover all age ranges. In typical Mardi Gras style, there are even adult or naughty themed beads for sale. Whether you want simple 33 inch 7 millimeter throw beads or complex and well-made hand strung beads, they have it all. The best part is that all of their prices are incredibly reasonable. You will not go broke trying to buy items for your next parade.
The company was started in 1985 by Manny Peixoto. He believed in giving his customers the best beads at the best prices and continues to do so today. His business has grown and expanded over the years. Now, instead of selling just beads, he sells Mardi Gras costumes, jewelry, dolls, decorations, umbrellas, T-shirts, and so much more. There are even items for St. Patrick's Day, Gasparilla Pirate Fest, and Fantasy Festival.
If you are trying to throw a theme party, then check out the selection of pirate, luau, and patriotic party items. The decorations can also be used for prom, Sweet 16 birthday parties, masquerades, balls, luncheons, and anything else you would decorate for.
Contact
Mardi Gras Supplies
Manny Peixoto
228-896-9696
http://emardigrasbeads.com

Contact