38th Anniversary of Nude Recreation Week Taking Off at Terra Cotta Inn Clothing Optional Resort and Spa
Every year, Nude Recreation Week reminds people that they can escape the monotony of boring chain hotel vacations. There are many fun and fascinating nude travel destinations around the world. Pack light and say goodbye to funny tan lines forever.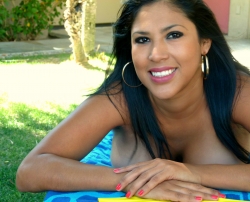 Palm Springs, CA, July 08, 2013 --(
PR.com
)-- Americans observed the nation's independence on July 4th. Now another major holiday period needs to be enjoyed. Celebrate the freedom from having to wear clothes on vacation.
The 38th Anniversary of Nude Recreation Week is held from July 8th -14th, 2013. The American Association for Nude Recreation (AANR) and The Naturist Society (who created this holiday) are the sponsors.
Nude Recreation Week lets first timers learn all about the fun they're missing out on by not trying vacations at topless, nudist resorts and nude beaches.
Nude sunbathing and skinny dipping have had a long history in America. Presidents John Quincy Adams and Teddy Roosevelt used to go nude swimming in the Potomac river. Benjamin Franklin greatly enjoyed his daily outdoor "air baths" while wearing just his birthday suit. Even President Johnson and the Rev. Billy Graham used to go skinny dipping together in the White House pool.
Mark Twain wrote about the innocence and fun Tom Sawyer and Huck Finn had while skinny dipping.
Nude Recreation Week tells everyone that by vacationing at nudist and clothing optional resorts, people can finally find a fun way to shed all of life's daily stresses along with their clothes.
Sunny Palm Springs, California is an extremely popular destination with the clothes free set. Averaging less than 3 inches of rain a year, this lush desert oasis has the sunniest, best weather in America. As Sunset magazine wrote about Palm Springs in their 2013 California Vacation Guide, "with amazing weather even in the summer... It's gorgeous here."
And the popular place to go is The Terra Cotta Inn Clothing Optional Resort and Spa
http://sunnyfun.com
The last 2 years in a row, they have received Los Angeles Times Reader's Choice awards. The LA Times called them the "Common Sense" place to stay in Palm Springs.
In April, 2012, AOL Travel reported that The Terra Cotta Inn is one of the top 10 best clothing optional resorts in the world. They average one of the highest repeat guest rates in the travel industry at just over 80%, with repeat guests from around the world.
AOL Travel also reported that they are the most mainstream nudist resort in America and perfect for couples trying topless or nude sunbathing for the first time. The atmosphere is very welcoming, friendly, and romantic.
Conde Nast Traveler Magazine reported "Value is the new luxury." And AOL reported Terra Cotta Inn is the best value nude sunbathing resort in the US. No need to go to overpriced places in the Caribbean or Mexico for vacations. TCI even has a summertime room sale on Monday - Thursday in July and August. Stay 1 night, take 50% off the 2nd.
It's about time to have a new and fun vacation experience. Check skinny dipping off the bucket list. Give Terra Cotta Inn a call at 1-800-786-6938. Celebrate Nude Recreation Week or any week of the year in your birthday suit in sunny Palm Springs, California.
Contact
The Terra Cotta Inn Clothing Optional Resort and Spa
Tom Mulhall
1-800-786-6938
http://sunnyfun.com

Contact