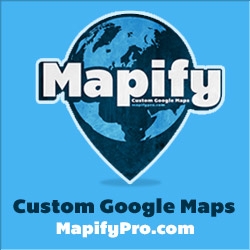 Cincinnati, OH, July 22, 2013 --(
PR.com
)-- From PaperTelevision, a design and development company located in Cincinnati, Ohio, comes MapifyPro, a software allowing meticulous control over Google Maps, including the ability to use custom map images in lieu of the standard Google Map designs. While it's intended primarily as a store locator, the possibilities are pretty much endless and not necessarily tied down to maps alone.
Customers using MapifyPro have implemented the software into everything from a road trip tracker, to online videogame maps, fundraising events, conference organizers, and even a product feature-list using an actual hot-spot photo of the product. Check out some of these real-world examples of MapifyPro in use:
Where is Zach? Zach King (host of the massively successful Youtube channel "FinalCutKing") and his crew will embark on a ten thousand mile journey across the United States. Their mission is simple: to take their videos to a new level of epic…in a rental car. For the last 2 years Zach's team has been working in Los Angeles and needed a change of scenery. So, they're ensuing on an amazing journey across the US to meet and collaborate with his fans. Zach and team will chart each and every stop along the way, documenting and sharing their films via pinpoints and galleries, all powered by MapifyPro on a robust interactive map.
From Kabul to Cork. Sheilagh Henry is an ambitious traveler, and one who is determined to complete her journey for awareness. From Kabul to Cork is an incredible four-month adventure from Kabul, Afghanistan to Cork, Ireland in a 1969 VW Bug. The catch of which there are likely to be many, is that one of the drivers suffers from a digestive disease. As part of a trip through 17 countries Sheilagh will raise awareness about healthy food choices, and promote a Whole Food Challenge. She will also showcase the entire journey on a MapifyPro powered map, showcasing that the journey itself is just as important as the destination. As long as she can find an Internet connection, she can further her cause as each story occurs, in the exact locations where it occurs, complete with photos, videos, and route information.
MapifyPro promises to give users full control with a powerful set of features missing from Google Maps' default feature set. It enhances Google Maps with custom pinpoint graphics, tooltips, pop-up galleries, and filtering options, but also allows the implementation of any custom map image while keeping the familiar zoom and pan effect of Google Maps — all this while implementing seamlessly into responsive Wordpress sites. Here are but a few of MapifyPro's advanced features:
Unlimited Customized Maps
Google Maps severely limits the capability of displaying a customized map on a website. MapifyPro breaks these barriers and allows the use of custom maps of any style and any image, all while maintaining the familiar aspects of Google Maps. This means that users are no longer ties to the overly-used look and feel of Google Maps.
Google Map Integration (Read: It makes Google Maps better.)
Want to stick with Google maps but need more control? MapifyPro enhances Google Maps with powerful features and advanced effects. Custom tooltip content, photo/video galleries on each location, unlimited custom pinpoint graphics, and the ability to control default zoom level are only a few of its many features. Combine these with the search and sort functionality of locations, and it truly results in an interactive, custom mapping experience.
Bulk Uploading of Locations
For those who have a ton of locations that need added to a map, and don't want to add them one by one, MapifyPro allows users to add all locations from a spreadsheet in a single bulk upload. Locations, tooltip content, descriptions, and settings are all applied automatically from a spreadsheet document.
Responsive Friendly
One of the most requested features, MapifyPro's rendering engine is optimized to work on tablets, mobile devices, and responsive sites.
Filters and Geolocation Search (by zip code)
Allows users to narrow results by entering a specific zip code and radius (by miles) to display locations in a specified area or region. Add custom tags and a dropdown filter to narrow location results on the map, which is perfect for a store locator and any site that requires the ability to sort locations. Users can even color code each pinpoint image, or use custom graphics for each and every location.
MapifyPro was designed and developed by PaperTelevision LLC. PaperTelevision was founded in 2005 with the inspiring if nonspecific goal of making awesome websites and apps. Since then they have helped people turn their ideas into a digital reality and have worked on a lot of stuff that is, as it turns out, pretty awesome indeed. Find out more about MapifyPro, play with the demo showcasing all of MapifyPro's great features, or purchase the software itself by heading here:
http://www.mapifypro.com
MapifyPro – a Product of PaperTelevision LLC
3549 Mourning Dove Woods
Franklin, OH 45005
Find Out More: www.mapifypro.com
Purchase the Mapify theme: http://tinyurl.com/btj6u69
Design and Development: www.papertelevision.com