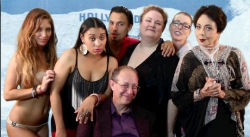 Los Angeles, CA, July 22, 2013 --(
PR.com
)-- Widestance Productions has assembled a group of talented actors who cover collectively about a hundred years of television to play themselves, or a reasonable caricature of themselves. The group, which is as diverse as any ensemble can be features actors who started in the 1950s to some who just got off the plane in Los Angeles. What makes them unique is that their agent has sold them out to a reality show producer for the money. In the real world, the group has created a Kickstarter campaign to raise money to shoot the pilot. While the goal has been set at 9,500.00, the group hopes to raise enough to keep going and eating at the same time.
www.kickstarter.com/projects/446251280/help-fund-pilot-episode-of-mockumentary-sidneys-cl
Sidney is an old school Hollywood Agent who has always been loyal to his clients, but economic times and the fact that he's out of touch have made him desperate, so he chooses the most problematic of his clients to be followed day and night by reality show cameras to offer a taste of the real Hollywood life of an actor. Sidney also recognizes that his clients are all Spiritually challenged, switching back and forth between extreme belief systems to being the most narcissistic individuals in the Galaxy. Make no mistake, this will not be the glamorous Hollywood portrayed in most reality series.
Of course they chose the word Galaxy on purpose because one of the stars of the show is Arlene Martel who among hundreds of other roles played Spock's wife on the original "Star Trek." Girls and boys who like boys will remember Gus Carr who played the teen heartthrob Krumper in "Bring it On; All or Nothing" as well as sharing the stage with the likes of Britney Spears, Michael Jackson and Destiny's Child. Resident Heavy set actor Donna Pieroni has played character roles in shows ranging from "Married With Children" to "Dexter" and "Always Sunny in Philadelphia." Kirstina Colonna is a regular hot girl across all media platforms including Spike TV, Break TV, and was recently featured on "Today" with Kathie Lee and Hoda. Marc Segal who plays Sidney has been on "The Parkers," "Bold and the Beautiful," and "Perversions of Science." Daffany Clark has made her way across the cable box in shows like "the One Percent" and "Drugs Made Me Do It." Barbara Scolaro has TV credits for almost two decades with programs like "Nip Tuck" and "Malcolm in the Middle."
John Trapper the writer creator of "Sidney's Clients" is making his first foray into filmed content, even though his Theatre Productions have been well known in Philadelphia, Boston, and Los Angeles, this is a new experience. Trapper's most notable achievement has been a little spoof of "The Golden Girls" called "The Golden Gays" a tasteful and legal musical parody tribute to the fab four that has played houses across the country most notable at the Colony Theatre in South Beach Miami (the Girls home town). Trapper's love of TV sitcoms is revealed by other productions such as "Fairies With Children" which spoofed "Married With Children" and conquered the topic of Proposition 8 in California at the same time.
Trapper assembled his group through friends he made as a member of Anthony Meindl's Actors Workshop and word of mouth. He's relying on the actors own stories to continue the ongoing plot line for their own characters albeit slightly exaggerated. Those wishing to help fund the project can click on the link above and make a contribution. Rewards includes, scripts, CDs, Cameo appearances, and credit in the show.