Epicure Digital Vertical MyPlate Dry Erase Menu Boards
Introducing the Epicure Digital Vertical MyPlate Dry Erase Menu Boards and the Epicure Digital MyPlate Magnetic Dry Erase Boards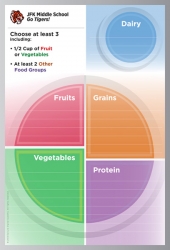 Beverly Hills, CA, July 30, 2013 --(
PR.com
)-- Epicure Digital, a leader in digital menu boards, introduces the MyPlate Vertical Dry Erase Boards and MyPlate Magnetic Dry Erase Boards following new directives by the USDA and local state agencies to post menu information sorted by the MyPlate food groups in front of each serving line in K-12 school cafeterias.
The new Epicure Digital MyPlate Vertical Dry Erase Boards and the previously introduced Epicure Digital Horizontal Dry Erased Boards are available in different sizes and may be customized with school logos, mascots and information, such as directives as to how to choose food items per the new USDA regulations.
The MyPlate Dry Erase Boards highlight the five MyPlate food groups with user-friendly graphics and information.
Epicure Digital clients include K-12 schools, colleges and universities, hospitals, independent and chain restaurants, contract food service companies, business & industry, and cinemas and casinos among others.
For K-12, Epicure Digital also provides MyPlate Digital Menu Boards that display daily menus with nutritional data and labels, allergen alerts, educational and promotional messages, and graphics, on classroom smart boards, district and individual school websites, and on LCD menu boards in the cafeteria. They inform, engage and encourage student participation.
"The Epicure Digital MyPlate System is very affordable," explained Harvey Friedman, President and Founder, Epicure Digital Systems. "Any size school district can easily and quickly provide daily online MyPlate menus on their websites and existing classroom smart boards. And, the same system can also be used to control LCD menu boards in cafeterias if and when they are required."
For schools that already publish weekly and monthly menu information on their websites, MyPlate menu boards provide the ability to display an additional webpage updated daily with nutritional and allergen information for each menu item.
MyPlate menu boards utilize an Epicure Digital proprietary nutritional menu labeling system to easily select icons representing food groups, allergens, Go, Slow, Whoa icons, and nutritional data for each menu item.
The company's websites http://www.EpicureDigital.com and http://www.myplatemenuboards.com) display an extensive portfolio of its client's digital, dry erase and online menu board projects.
For more information, contact:
Tommy Orpaz
310-652-8246
torpaz@epicuredigital.com
Contact
Epicure Digital
Tommy Orpaz
310-652-8246
www.epicuredigital.com

Contact