Engineered Software Offers Free Ready-Made Curriculum & Books for Educators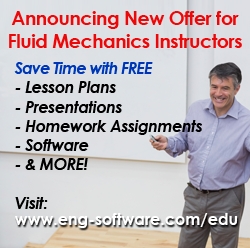 Lacey, WA, August 01, 2013 --(
PR.com
)-- Engineered Software, Inc. announces the availability of an exclusive offer for educators of fluid mechanics or related subjects. Working together with the Crane Company in a commitment to education, Engineered Software, Inc. has created ready-made curriculum and supplemental tools and is providing them free for educational use. The package is valued at over $250!
Contained within the Free Educational Packages are two publications and a CD filled with supportive documents and tools. The two publications include Crane's Technical Paper 410 (TP410) – the industry standard guide for hydraulic calculations and Piping System Fundamentals: The Complete Guide to Gaining a Clear Picture of Your Piping System, Second Edition. The books are supplemented with a CD containing a demo version of PIPE-FLO Professional software and three Lesson Plans covering Pumps, System Networks and System Interaction all intended to link fluid dynamics theory with real-world example applications.
"We believe instructors are continually looking for improved methods to teach the principles of fluid mechanics in a meaningful way to their students. Time conscious and concerned, instructors are looking for a valuable solution, and we aim to offer just that," said Ray Hardee, Chief Engineer and CEO of Engineered Software, Inc.
"What we have found in our research is that many new college graduates arrive in their first position with little connection between the principles learned in their fluid dynamics course and the application to real-world fluid systems. By exposing students to industry standard technical literature, introducing them to real-world applications, and familiarizing them with the use of analysis tools used by industry leaders worldwide, we believe we are preparing future engineers to become topical experts," said Michael Blondin, Chief Operating Officer for Engineered Software, Inc.
Educational package includes:
Piping System Fundamentals: Second Edition
Crane Technical Paper 410
Media CD
Each CD includes
PIPE-FLO Professional Software Demo
3 Lesson Plans (Pumps, Networks & System Interactions)
3 PowerPoint® presentations
3 Homework Assignments & Solutions
3 Predesigned PIPE-FLO models
12 TP410 Calculation Examples & Solutions
For Further Details & Package Requests: www.eng-software.com/edu/
About Engineered Software, Inc. www.eng-software.com
Founded in 1982, Engineered Software, Inc. has created products known worldwide for high end-user satisfaction rates. The company has two award-winning product lines – PIPE-FLO and PUMP-FLO Solutions. Recognized as the best in the industry, the programs' interface was developed and refined based on over 25 years of customer feedback. Engineered Software is also the creator of Flow of Fluids Premium software, and holds an agreement with Crane Valve North America to produce, market and sell their Technical Paper, TP410. Engineered Software, Inc. has more than 5,500 clients worldwide across a variety of industries including aerospace and defense, chemical processing, engineering design and consulting, food and beverage, oil and petrochemical, mining and metals, pharmaceutical, power generation, pulp and paper, waste water collection and treatment and education.
About Crane
Crane Co. is a diversified manufacturer of highly engineered industrial products. Founded in 1855, Crane provides products and solutions to customers in the aerospace, electronics, hydrocarbon processing, petrochemical, chemical, power generation, automated merchandising, transportation and other markets. The Company has four business segments: Aerospace & Electronics, Engineered Materials, Merchandising Systems, and Fluid Handling. Crane has approximately 11,000 employees in North America, South America, Europe, Asia and Australia. Crane Co. is traded on the New York Stock Exchange (NYSE:CR). For more information, visit www.craneco.com.
Contact
Engineered Software, Inc.
Natalie Jensen
360-412-0702
www.eng-software.com
Twitter: @EngSoftware
Facebook: www.facebook.com/EngineeredSoftware

Contact