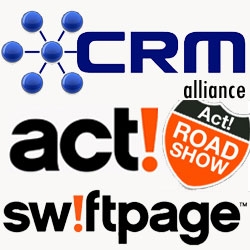 Phoenix, AZ, August 01, 2013 --(
PR.com
)-- The CRM Alliance, the #1 source for ACT! CRM and Swiftpage E-Marketing experts, will be holding ACT! CRM and Swiftpage E-Marketing Roadshows for local business owners and professionals. These events will be taking place in major cities across the United States over the next few months. The shows will focus on best-practices for CRM usage and modern E-marketing strategies enabling businesses to enhance prospect and customer relationships and accelerate their sales results.
With the recently completed purchase of the ACT! CRM product line by Swiftpage, this year's Roadshows will be the first time that ACT! CRM users will be able to learn about both ACT! and Swiftpage's original e-marketing platform at the same event. In addition, the ACT! Roadshows coincide with the launch of ACT! CRM's next release, ACT! 2014 version 16, and will highlight the new features designed to make businesses more efficient, productive and profitable.
"I like to think of the Virtual ACT! 2014 Road Show as an ACT! celebration. This release represents the first release under the new Swiftpage ownership," said Karen Fredricks, owner of Tech Benders and author of 13 books and 3 sets of training videos on CRM software.
The CRM Alliance President Debora Boyle says implementing ACT! and Swiftpage E-Marketing can revolutionize a business. "As local CRM experts and top ACT! certified consulting and training companies, our members will present how businesses of any size can convert leads, retain customers, generate more sales."
The free seminars are designed for new, potential and existing users of ACT! CRM software or for those looking to implement CRM or E-Marketing solutions for their business. All events will include give-aways and exclusive pricing.
For more information, to register or to see if an event has been scheduled in your area visit The CRM Alliance Roadshow page:
http://thecrmalliance.com/act-crm-roadshows
Dates, Local Area and Presented By
August 14, 2013 Fort Lauderdale FL - Miami FL Tech Benders, techbenders.com
August 15, 2013 Baltimore MD - Washington DC Stewart Technologies, stewarttechnologies.com
August 22, 2013 Seattle WA - Tacoma WA Platinum CRM Consulting, actplatinum.com
August 28, 2013 Phoenix AZ - Scottsdale AZ Platinum CRM Consulting, actplatinum.com
September 18, 2013 Hartford CT - Springfield MA Squad 16 Consulting, squad16.com
About the CRM Alliance - The CRM Alliance is an organization of top CRM consulting and training companies. Specializing in Customer Relationship Management and E-marketing Solutions, we provide software systems for businesses to acquire and retain customers, automate the sales process, manage marketing campaigns and measure the success of sales teams. With headquarters in Phoenix, Arizona, the organization and its member firms provide local services for customers in major cities across North America. For more information or to find a Certified Consultant visit
www.thecrmalliance.com
.
About Swiftpage - Swiftpage's digital marketing platform helps small businesses grow. Its email marketing, social media marketing, and contact management solutions empower them to convert prospects, retain customers and expand their businesses. Swiftpage delivers the platform as a white label solution to partners who provide digital services to small business end users. For more information visit http://swiftpage.com.
About ACT - ACT!, which has over 8 million users worldwide, is the top selling contact and customer management software. Designed to allow users to increase the effectiveness of their sales and marketing efforts, Swiftpage ACT! integrates seamlessly with Microsoft Office, Google, Peachtree and QuickBooks.