Modern Media Group Officially Opens Doors to Local Businesses
After over a decade of helping local businesses generate buzz by creating captivating marketing material, Modern Media Group NY, LLC has opened its new office at 95 Gleneida Avenue in Carmel, NY. Rebecca Bertoldi, the owner of Modern Media, began helping local entrepreneurs to brand, market and grow their businesses in 2001, when she launched her home-based design and marketing business.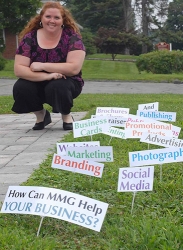 Carmel, NY, August 03, 2013 --(
PR.com
)-- Modern Media Group NY, LLC (MMG) hosted an open house on Thursday, August 1, 2013 at their new office space, located at 95 Gleneida Avenue in Carmel. Given its recent successes, MMG is once again able to take on new clients following a three-year hiatus of doing so. The team was joined by members of the community who came out to celebrate this recent announcement and the company's new office with a ribbon cutting and delicious local food.
"It's so great to finally announce that we can offer our services to new customers again," said MMG owner Rebecca Bertoldi. "As difficult as it was to have to turn away so many new clients over the past three years, it was something I had to do while building the Eventful Magazine brand as a sole proprietor."
You may know Bertoldi only as the publisher of Eventful Magazine, however she has had her design and marketing company since 2001, based out of her Lake Carmel home. Her clients range from startups to larger corporations and can be found in New York, Connecticut, New Jersey, Pennsylvania, Arizona, California and Rhode Island.
"Technology has allowed us to help businesses from all areas achieve their goals," Bertoldi stated. "Our newly-expanded staff is simply awesome. I could not ask for a better team to work with and look forward to many years of creativity and success with them."
As customer service is of the utmost importance to MMG, the company has addressed the needs of harried business owners with several do-it-yourself options. Customers can create and order their own pieces, on their own computers, on their own time, while continuing to shop locally. And they have the comfort of knowing the integrity and caliber of the company with whom they're doing business.
"The Brewster Chamber of Commerce is pleased to have Modern Media Group as a member and a part of our community," said Rose Aglieco. "Knowing what they were able to do with Eventful, we look forward to all the wonderful things they can now offer our members and we know their expertise will benefit our local businesses. We were honored to be a part of the Grand Opening and wish them continued success."
Putnam County's Director of Tourism Libby Pataki joined also in the festivities and said, "I have worked closely with [MMG] while in the tourism office and they are a pleasure to work with. Rebecca has made our event and county promotions not only look wonderful, but she makes the whole process easy and painless as well."
"On behalf of the GMCCC, I'd like to extend a sincere thank you for inviting us to your grand opening and ribbon cutting at 95 Gleneida Avenue," said Mike Bucci, CEO of Greater Mahopac-Carmel Chamber of Commerce. "You have truly surrounded yourself with a team of professionals that exude 'community' wherever you go. We are excited to have Modern Media Group and your marketing services -- right here in Carmel."
Modern Media Group encourages business owners to stop in and say hello. Or if you want to schedule a complementary consultation, call 845-231-0512; to learn more about their array of services and/or do-it-yourself options, visit www.modernmediagroupny.com.
Contact
Modern Media Group NY, LLC
Rebecca Bertoldi
845-231-0512
www.modernmediagroupny.com

Contact
Multimedia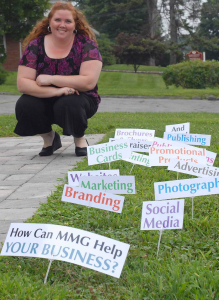 Modern Media Group owner Rebecca Bertoldi prepared a "garden of services" for the grand opening to showcase the one-stop shopping for businesses.