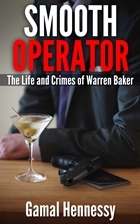 New York, NY, August 07, 2013 --(
PR.com
)-- Nightlife Publishing has released a new anthology called "Smooth Operator: The Life and Crimes of Warren Baker" (ISBN-0615853579). It is a criminal espionage novel that explores human motivations and how those motivations shape our identity.
The stories in this collection follow a professional spy named Warren Baker as he attempts to manipulate the parade of criminals that cross his path in New York, Miami and Argentina. Playing on the anger, envy, greed and lust of his targets, Baker strives to fight against an army of criminal cartels invading America. If he succeeds, he'll be in a perfect position to stop them. If he fails, he'll wind up dead in the trunk of an abandoned car. Advanced reviews have described Smooth Operator as "a thrilling, exotic novel packed with intrigue, action, deceit and sensuality."
Gamal Hennessy, the President of Nightlife Publishing and author of Smooth Operator, sees the book as a blend of both the crime thriller and the spy novel. "I tried to create a style of story inspired by the best of both genres. Combining the cool professionalism of the spy mixed with the primal motivations of the criminal appeals to readers who are looking for a different type of spy story."
"Smooth Operator" will be part of the Kindle Direct Press program. The e-book will be free from Wednesday August 7th to Sunday, August 11. The retail price of the e-book will be $2.99. The paperback version has a retail price of $9.99.
As a bonus, Nightlife Publishing will offer a free prequel short story called A Special Request, to anyone who posts a review for Smooth Operator on Amazon. The retail price of the prequel is $.99 and will be provided regardless of the contents of the review.
For more information, please visit http://gamalhennessy.com
About Gamal Hennessy
Gamal Hennessy is an author, entertainment attorney and nightlife advocate in New York City. He is the author of fiction including Afraid of the Dark and Smooth Operator, the non-fiction title Seize the Night and he is also the President of Nightlife Publishing.
Source: Nightlife Publishing