Join Puppy Love Caring Canines, Inc. for Family Fun at Edina Rosland Park, Sat., August 17th
Puppy Love Caring Canines, Inc. is hosting its annual fundraiser on August 17, 2013 from 10am-2pm to thank its loyal sponsors for all their effort over 2013. Please join them for a family festival to thank their sponsors who support their efforts in 2013. This is a thank you celebration and all are welcome to enjoy the dog training demonstrations, petting zoo, and meet Katie from KTK9.com-their hope is you can join them for a great time.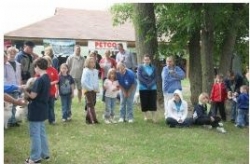 Minneapolis, MN, August 08, 2013 --(
PR.com
)-- Puppy Love Caring Canines, Inc., is hosting the 10th Annual Wag-N-Wheel family festival on Saturday, August 17, 2013, from 10am to 2pm. The event is hosted by the 501(c)(3) organization to raise funds for 2014 volunteer work, and efforts to match trained canine companions to disabled individuals.
The event will be held at Rosland Park, 4300 W. 66th Street, Edina MN, 55435. Puppy Love Caring Canines, Inc., will be performing dog training demonstrations, hosting a petting zoo, and expect to have Katie from KTK9.com stand in as the master of ceremonies. Family and friends of Puppy Love Caring Canines will host the event, and all individuals who work with the organization are volunteers.
A silent auction and a raffle will be hosted at the fundraiser, and the public is encouraged to attend.
Puppy Love Caring Canines is a local, non-profit organization providing assistance dogs for children and adults with disabilities in the Twin Cities in Minnesota. PPLC fosters, trains and continues education with disabilied individuals and their service dogs.
PPLC, Inc., benefits the community by training therapy dogs to visit schools, hospitals and nursing homes to provide emotional support for the disabled, as well as work with them to improve their motor skills and quality of life. The Community benefits by frequent educational visits, regarding disabled individuals needs and health concerns. With their volunteers, PPLC, is able to train dogs for demonstrations, and find solutions for disabled children and adults.
The public is invited to the Wag-N-Wheel Family Festival, and encouraged to stop by to learn more about Puppy Love Caring Canines, Inc. In past years, PPLC, Inc, has seen community interest increase with added attendance and the volunteers have been busy adding new items to the raffle and silent auction. The host will be at Rosland Park in Edina to thank their sponsors for their support of Puppy Love Caring Canines, during 2013.
PPLC, Inc. is completely funded by donations, and its Annual Wag-N-Wheel Family Festival is the best way to match resources to the ever growing needs of disabled individuals in the Twin Cities. More details are at
www.puppylovecaringcanines.com
Contact
Puppy Love Caring Canines, Inc.
Cheryl Hanson
612-205-7744
www.puppylovecaringcanines.com

Contact