Purest Algal DHA Ingredient Clears FDA Examination for US Food and Supplement Markets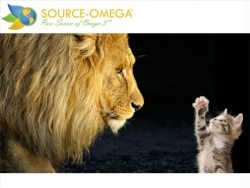 Mason, OH, August 12, 2013 --(
PR.com
)-- Source-Omega today disclosed that the Food and Drug Administration (FDA) sampled and cleared their new algal DHA (docosahexaenoic acid) oil. The FDA samples products making its own admissibility determinations to ensure safety, efficacy and quality of products. Less than 1 percent of products are sampled by the FDA, suggesting Source-Omega cleared a hurdle previously scrutinized over a decade ago.
In 2003, algal DHA GRAS filings were submitted to the FDA. GRAS stands for Generally Regarded As Safe. The current GRAS status in place exempts a matching product from New Dietary Ingredient applications when identity, purity and composition fulfill established criteria.
Source-Omega maintains an FDA GRAS Self-Affirmed regulatory file under SOURCE OIL™, a Class 1 brand used in distribution, manufacturing and marketing. The company tests every batch of oil to ensure specifications and standard operating procedures meet or exceed omega-3 industry standards. Source-Omega employs reputable, certified and strict quality controls (QC) and quality assurances (QA) proving SOURCE OIL™ is the purest algal DHA in the market.
These disclosures were made because Source-Omega today launched what it claims is a superior algae oil ingredient containing 55 percent DHA, the highest natural DHA oil concentration in the world. The company first introduced a 40 percent DHA algae oil in 2012. Their new quality improvements have achieved higher purity and concentration standards than its competition currently provides, dismissing the idea that only one company in the world can produce high quality DHA algae oil at sustainable volumes.
Dr Scott Doughman is the company's Founder, CEO and Chief Scientific Officer. "We are doing what others cannot do or will not do because our rights are certain under US law. The Federal Trade Commission (FTC) has consulted with myself and recognizes our expertise and supply. I also communicate with the FDA to establish confidence in our supply substantiations and agency," said Doughman.
"We market what we have published under peer-review or under structure function claims submitted to the FDA. Our persistence for purity has eliminated concerns over environmental contaminants such as mercury, lead, dioxins and furans. The best of the best and the purest of the pure alone will satisfy me. These are also the terms we expect from our distribution partners, be they pharmaceutical, nutraceutical, food or supplement. This is how we expect to become the leader, creating long-term market share," said Dr Doughman.
About SOURCE OIL™
There is indeed a well-established marketplace for algal DHA. The company expects SOURCE OIL™ to compete directly for an estimated $500 million dollar annual algae DHA market.
"The strain was simply selected to achieve both high DHA levels and a rarely accessible solvent-free mechanical extraction capability. These are not proprietary processes, but cell cracking plus water extraction yield a higher quality product that cannot be easily duplicated without several years of development. Our competition does not extract using solvent-free processes," Dr Doughman said.
About Source-Omega, LLC
Source-Omega is an entrepreneurial company currently working with innovative Biotech and Pharma partners for the commercialization of SOURCE OIL™ towards international opportunities. They are targeting supplements first, but have goals to supply algal DHA for foods, animal nutrition, infant formulas, prenatal products, medical foods and drug developments. Given input estimates of 10 to 20 liters oil required to make 1 liter of an omega-3 drug, their sustainable high DHA supply will be needed as omega-3 demand continues to grow globally. The company expects DHA will eventually offer superior treatments for fatty liver disease and related metabolic syndromes. Starting its sixth year in business this coming October, Source-Omega has steadily become a solid force as a visionary knowledge-based omega-3 company.
Contact
Source-Omega, LLC
Gene Wolf
919-360-5275
www.source-omega.com
11312 US 15-501 North, Suite 107-122
Chapel Hill, N.C. 27517, USA

Contact