MageWorx SEO Suite Ultimate Magento Extension: a New Way of SEO Optimization for Magento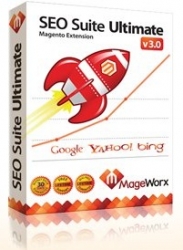 Fairfax, VA, August 13, 2013 --(
PR.com
)-- SEO Suite Ultimate Magento Extension, one of MageWorx.com flagship products, enhances your site's SEO and reduces the time necessary for optimization and promotion from 3-6 months to 1-3 months.
MageWorx company
is one of the leading extension provider on Magento market has designed SEO Suite Ultimate to combine all SEO features important for successful search engine promotion in Google, Yahoo and Bing.
The main features of the extension that make it different from the competitors' are independent Product URL Keys, Meta Titles based on templates and improved Canonical URLs. SEO Suite Ultimate adds canonical tags to every page of your Magento store thus excluding the issue with duplicate content (as the major Magento SEO problem is that products can be accessed via different URLs). Together with product pages the extension also makes user and search engine-friendly Product Tag, RSS and Review URLs.
Moreover you get the full control on the Meta Robots Tag at every single page of your Magento store. By default SEO Suite Ultimate adds NOINDEX, FOLLOW tag to the pages that can create duplicate content like checkout or wishlist. "I think this module is a must have for all people that are serious about SEO. This module solves some of the SEO issues that Magento are suffering from. To be able to put navigation filter pages to NOINDEX is my favorite feature," says Emanuel, Happy Customer of SEO Suite Ultimate.
The extension also has the functionality of the Extended Sitemap Magento extension that correctly displays Magento Catalog Categories, CMS Pages, Products and other configurable links on a single SiteMap page.
Furthermore the default Magento Google Sitemap functionality in SEO Suite Ultimate is replaced by the XML Site Map files with improved functionality.
Rich Snippets support is one of the latest features added to the extension. With SEO Suite Ultimate you can add details important for search engine promotion and optimization. The detail are product's price, availability, stock status, shipping and payment methods, reviews and other snippets you want to be displayed in Google search.
What's more MageWorx team of developers is constantly working on the improvement of SEO Suite Ultimate to make it completely perfect for your Magento store.
Contact
MageWorx
Antoine Remant
+1 (855) 725 3755
http://www.mageworx.com

Contact