The Road to Recovery Just Opened an Express Lane
Through a partnership with Medical Service Company, MyCareHomeMedical.com was able to develop a program for customers built around speed & continuing care aptly named Care Express. One part customer loyalty program, one part patient outreach designed around the premise of delivering helpful information for patients & caregivers, one part ecommerce website, one part affordable online resource for home medical supplies; one whole solution for the continuation of at home patient care.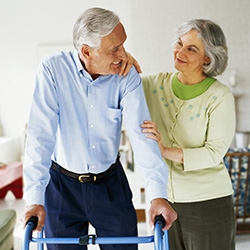 Cleveland, OH, August 14, 2013 --(
PR.com
)-- Approximately 12 million people in the U.S. require some form of home healthcare. With the average care term lasting almost year, patients and caregivers require the flexibility to get affordable medical supplies as quickly as possible.
The care of a patient with an uncomplicated condition may be treated and effectively managed by a primary care doctor; where as managing the care for an elderly patient may involve physicians, therapists, equipment, and aides in either the home or rehabilitation facility. Almost two-thirds of home health care recipients are women and more than two-thirds of home healthcare recipients are over age 65. Of the conditions requiring home care, diabetes, heart failure, chronic ulcers of the skin, osteoarthritis, and hypertension are the most common.
Family, friends, and healthcare professionals have become more involved in the delivery of healthcare services with more than 33,000 caregivers providing in home care in the US alone. As the care process becomes more complex and the number participants increases, there is a greater need for the marriage of provider and technology to help simplify the continuation of care for patients. Whether it's a PC, tablet, or smart phone,
MyCareHomeMedical.com
can help caregivers connect with the products they need, when and where they need them.
Through a unique partnership with Medical Service Company, MyCareHomeMedical.com's Care Express Program is able to utilize over 60 years of experience in providing home medical supplies and services to patients and care providers. Their qualified staff comprised of experienced Patient Care Representatives, Respiratory Therapists, Registered Nurses, Emergency Medical Technicians, and Registered Dietitian, are available work with patients and healthcare providers to deliver the best combination of high-quality products, services and support for patients' treatment.
The pending changes to Medicare will impact the coverage for your home medical supplies. The ancillary products that may improve your comfort level may not be covered by your insurance; that's where MyCareHomeMedical.com can help. With hundreds of products ranging from
Bath Safety
items, to the pads that can make a hospital bed or wheelchair more accommodating, personal care products, as well as a variety of
mobility products
(wheelchairs, walkers,
canes & crutches
); MyCareHomeMedical.com has the medical supply items to help make the road to recovery as comfortable as possible.
Contact
MyCareHomeMedical.com
Chris Loeser
855-403-7035
www.mycarehomemedical.com

Contact