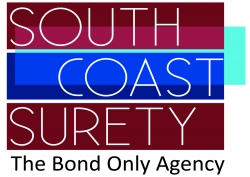 San Clemente, CA, August 16, 2013 --(
PR.com
)-- The Federal Motor Carrier Safety Administration ("FMCSA") is implementing the new increase of their bond from $10,000 to the $75,000 bond requirement for all ICC Property Brokers and Freight Forwarders. This has been a very difficult process with many unanswered questions. As we move towards the 10/1/2013 effective date, South Coast Surety has put in place surety programs that will take care of all Property Broker and Freight Forwarder sized companies.
The new requirement will be effected by filing a new bond form (BMC-84) to replace the existing form. This $75,000 is required for all Property Brokers that had the $10,000 bond as well as Freight Forwarders. (Under the old law only property brokers had to furnish the bond.)
South Cost Surety's new programs have an extremely low start rate at only $1688. Companies with sufficient net worth may be written without personal indemnity.
Most importantly, small brokers and those that have had credit challenges can still be approved and get the bond they need to be able to do business.
See more about this great program at
southcoastsurety.com/Freight-Broker-Bond.htm
.
South Coast Surety is a National Wholesale Surety Agency with the largest in-house authority programs in the country. They have been providing surety bond support for all business and credit profiles for over two decades.
An experienced Surety Representative can be reached at 1-800-361-1720.