Friday Night Lights - Now with Live Online Scoreboard
The Virtual Scoreboard Network offers a free online scoreboard for any local game.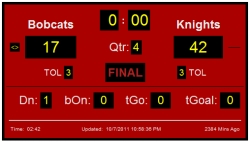 La Porte City, IA, August 19, 2013 --(
PR.com
)-- A small Iowa company is offering an easy to deploy live online scoreboard for local games anywhere in the country. Keeping your fans up-to-date from both home and away games has always been a challenge.
Now, with The Virtual Scoreboard Network (VSBN), coaches, athletic directors, fan-club members, PTOs -- or virtually anyone from the community can spontaneously deploy a live scoreboard.
Scoreboard setup on the VSBN network is quick, easy, and free. Users can then publish the scoreboard ID so that the local fans can view it directly from the VSBN website.
Alternatively, the system provides embedding code so that you can embed the scoreboard directly into your team or school website. The VSBN's own hometown team uses the system on a website called "The Knights Network" - where the virtual scoreboard exists alongside the game's internet audio broadcast.
Some radio stations are now considering the Virtual Scoreboard as a visual offering alongside their audio broadcast. When embedded in the station's website, it draws listeners to the website, and brings more ad revenue potential as listeners click-through.
Keep your remote fan base up-to-date for this football season with The Virtual Scoreboard Network.
Contact
The Virtual Scoreboard Network
Bruce Dean
319-342-3564
www.virtualscoreboard.net

Contact