Great American Poker Challenge Set for November
The world's largest amateur poker event is set for Las Vegas this November. World Tavern Poker and Eastern Poker Tour, two of the largest bar poker leagues in the world, have joined forces to put together this epic, game-changing event.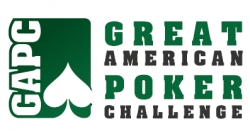 Las Vegas, NV, September 05, 2013 --(
PR.com
)-- Hundreds of poker players from around the country are beginning to count down the days until the largest poker party of all time: The Great American Poker Challenge (GAPC)! The GAPC is set for November 1-7th at Planet Hollywood on the Las Vegas Strip.
Two of the country's largest and most-respected poker leagues, World Tavern Poker and Eastern Poker Tour, have joined forces to create this one-of-a-kind event. The GAPC offers a guaranteed $150,000 in cash payouts for the week of poker events, all while offering affordable buy-ins in the $50-$120 range.
"We wanted to do something that no one has ever done before," said World Tavern Poker Owner Mike Matsinger. "We wanted to create a poker event that was as much party as it was poker. We're raising the bar on what it means to have a fun poker event."
The event offers GAPC ticket holders 14 tournaments, including a $50,000 National Championship event only available to players that qualified through World Tavern Poker and Eastern Poker Tour. There will also be a $20,000 Guaranteed Deep Stack Championship and several other big tournaments that will be announced in the coming weeks.
"Our two leagues are coming together to create something totally unique and guaranteed to change the way people think about bar poker," said Eastern Poker Tour founder Glenn McCrory.
In addition to the poker tournaments, the GAPC will feature several parties, including a 1980s Rock Karaoke party and celebrations at Vegas hot spots Blondies and The London Club.
Tickets are available now at www.GAPClive.com, and no poker fans will want to miss the chance to be a part of this one-of-a-kind event when the GAPC brings the fun back to poker. Sponsorship packages are available. Please inquire at info@GAPClive.com. For more information about the event, visit www.GAPClive.com and click on "Brochure."
Contact
Great American Poker Challenge
Derek Levandowski
919-544-0700
www.gapclive.com

Contact