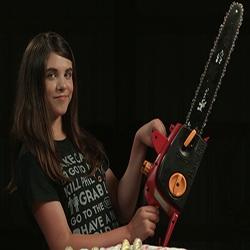 Vineland, NJ, September 09, 2013 --(
PR.com
)-- Most teenagers in their spare time can be found lounging around, playing on the computer, or watching television. Not Emily DiPrimio. This 13 year old from South Jersey instead has co-written a horror film and is gearing up to make her directorial debut. Emily has grown up watching her father, an independent filmmaker himself. As a result, she was exposed to film and the horror community as a child and has come to appreciate the art form. Up until now, she has been involved in many of her father's projects to a certain extent. Now she is taking on an even more active role.
The movie in question is called Carver, which promises to be in the style of an 80's slasher film and NO CGI GORE. Emily, along with her father, has recently launched a Kickstarter campaign with a goal of $25,000.00. The Kickstarter video showcases Emily talking about her dreams and aspirations, also explaining why she is a bit different than other girls her age. Yes, she played with Barbies. However, she liked to reenact the famous shower see from Psycho. Yes, she had tea parties. With Jason of course. Safe to say, Miss Emily DiPrimio is quite unique.
Why should you donate?
As a young girl, Emily is representing women in a genre that is generally dominated by men. She is quite mature for her age and has a vision that she wants to see fulfilled. She will be among the next generation of filmmakers. With art programs being cut all over the country, it is important to continue to foster the love of arts as much as possible among adolescents. The film community should come together to support her for this reason.
Horror Society says, "This is the best Kickstarter pitch video we have ever seen." What do you think? Help make this movie happen. For a $5 donation you get the movie. See the Kickstarter
here
.