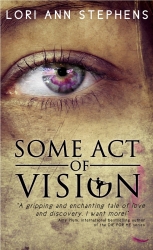 Dallas, TX, September 12, 2013 --(
PR.com
)-- ASD Publishing is proud to announce the release of the young adult novel by author Lori Ann Stephens, "Some Act of Vision" (ISBN: 978-0-9853441-6-0, Release date September 17, 2013). After ten years of ballet lessons, Jordan Walker has finally landed her first principal role in Romeo and Juliet. Sweeter yet, "Romeo" has asked her to the May Fling Ball at Winston High. But a massive Texas earthquake triggered by the fracking activity nearby tears apart the community and Jordan's future as a dancer. The Walker family survives the earthquake, but wake up the next morning utterly invisible.
Stephens is the author of "Song of the Orange Moons" (Blooming Tree Press & ASD Publishing), several short stories and poems, and a few opera libretti. When she's not writing or lecturing at SMU in Texas, she reads, dances, and eats the best gourmet, home-cooked meals (cooked by her French lifelong companion).
"When Lori submitted this book to ASD, I read it in one sitting —I could not put it down," says ASD Managing Editor Greg Goldston. "The pacing, the storytelling, the fact that it's for young adults but can be enjoyed by older adults and those of both genders—this book has so much going for it! We were thrilled we could be the ones to introduce it to the world."
The book has been called "a gripping and enchanting tale of love and discovery" by international bestselling author Amy Plum. "Some Act of Vision" is Stephens's first foray into the world of young adult, but has imagined a thought-provoking story that mixes suspense with romance. Early reviewers are already asking for more Jordan Walker.
"One day," Stephens recalls, "I heard a news report about the contamination of well water that was linked to fracking activity. I wondered how many more unintended consequences would surface. What if we've damaged more than the earth in this dogged race for resources? What if we compromise –or lose—our identity in the process? That's where Jordan's crisis was born. I hope the novel balances the action, the romance, and the process of finding one's identity in a satisfying read."
The book will be available in print and eBook from all online retailers as well as indie bookstores across the country. Stephens will be hosting book signings and school discussions on writing for young audiences and on the book's various themes in the Dallas area. To keep up with where she will be, please check out her website at www.loriannstephens.com
ASD Publishing, an independent book publisher based in New Jersey, specializes in thought-provoking literary fiction, memoir, self-help nonfiction, and written word that champion personal growth and the independent spirit. www.asdpublishing.com