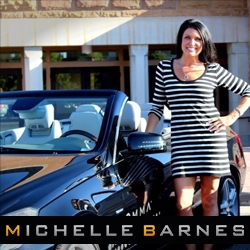 Highlands Ranch, CO, September 10, 2013 --(
PR.com
)-- Michelle Barnes, one of the world's leading teachers of network marketing, announces the launch of a new website that tells her unique story and gives visitors the opportunity to sign up for her proven effective coaching services.
Available at
http://www.michelle-barnes.com/
, the new site delves into Barnes' personal success story and also shows exactly what is possible when beginning network marketers get the right coaching and support.
"I actually got into network marketing by accident," Barnes said. "But was able to earn $102,000 my first year. From there I simply haven't looked back and today nothing gives me more satisfaction than sharing my success secrets with others."
Barnes says she grew up hearing what most people do – if you want to be successful you must go to school, get good grades, go to college and then get a job where you can work your way up the ladder.
"I tried that approach," Barnes said. "But after 4 years of undergrad studies and one year of law school, I found myself $80,000 in debt and waiting tables and bartending, because I could make more money doing that than with my degree."
Barnes ended up answering a newspaper ad that said "SPORTS-MINDED $3k-6k/mo," which turned out to be a network marketing opportunity.
After making $102,000 that first year, she went on to turn three other businesses into six-figure yearly incomes and is a 20 top global money earner with Vemma.
Now she wants to share the special insights and tips she's learned over the past several years with network marketers of all types, which is why she is launching the new website.
"Now anyone aspiring to become a successful network marketer has a place they can go to get network marketing information and inspiration," Barnes said. "They can also sign up for a strategy call during which I'll tell them more about my proven coaching system for building a successful social network marketing business today."
To learn more about Barnes, about succeeding in network marketing today or to schedule a strategy call, visit
http://www.michelle-barnes.com
.
About Michelle Barnes
Michelle Barnes has gone from being $80,000 in debt and waiting tables and bartending to being one of today's most in-demand network marketing teachers.
During her career, she has turned four different network marketing businesses into six-figure income producers and now specializes in helping aspiring marketers achieve the success they dream about, whether that's obtaining financial freedom, receiving rewards and recognition, having more time for the things and people who matter the most, enjoying flexible schedules or something else.