The CRM Alliance Supports Act! v16, Act! CRM Newest Release
Local Act! Certified Consultants are available to help North American businesses with Act! v16 CRM making them more productive and profitable. Act! v16 is the first release by Swiftpage and contains a wide-range of new features and enhancements most requested by Act! users.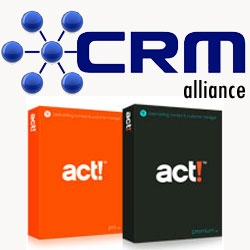 Phoenix, AZ, September 10, 2013 --(
PR.com
)-- The CRM Alliance, the #1 source for Act! CRM and Swiftpage E-Marketing experts, is now supporting Act! Version 16. With the purchase of Act! by Swiftpage this year, Act! v16 is the first release by Swiftpage and contains a wide-range of new features and enhancements most requested by Act! users.
Some Act! users choose Act! software for its ability to customize their database layout and to create special reports for their business processes. Others like the easy integration from database to e-mail and drip marketing campaigns. From initial installation to advanced customization and e-marketing, The CRM Alliance has local experts who help Act! users make their companies run more efficiently, productively and profitably.
The CRM Alliance President Debora Boyle says implementing Act! v16 can revolutionize a business. "As local CRM experts and top ACT! certified consulting and training companies, our members can help businesses of any size convert leads, retain customers, generate more sales by using Act!"
"Unlike its competitors, Act! v16 is a CRM product that offers integrated email and drip marketing services made by the same company, Swiftpage, allowing businesses to have a single provider for CRM and crucial outbound email marketing products and services," said Clay Weatherford, President of Proactive Information Systems and The CRM Alliance Executive Board member.
Act! is the #1 best-selling contact and customer manager, used by millions of businesses, teams and professionals for over 25 years. Act! helps companies organize all prospect and customer details in one place and market their products and services more effectively, driving sales results while creating and keeping loyal customers.
Act! v16 delivers new functionality and many enhancements that helps users maximize time, prioritize, and be informed and prepared to market and sell. New features include:
· Act! Premium Mobile: Companies and Groups functionality and new Tablet Views for iPads, Android and Windows devices for the mobile workforce
· Calculated Fields: Automatically calculate commissions, age, renewals, etc. for Currency, Decimal, Number and Date fields
· History List View: User productivity and quick reporting of actions
· Company Management - Automatically create Companies and link the associated Contacts based on your set threshold
· Universal Search Lookup: Create a lookup of Contacts or Companies from the search results
About the CRM Alliance - The CRM Alliance is an organization of top CRM consulting and training companies. Specializing in Customer Relationship Management and E-marketing Solutions, we provide software systems for businesses to acquire and retain customers, automate the sales process, manage marketing campaigns and measure the success of sales teams. With headquarters in Phoenix, Arizona, the organization and its member firms provide local services for customers across North America. For more information or to find a Certified Consultant visit
www.thecrmalliance.com
.
The following businesses are ACT! Certified Consultants and members of The CRM Alliance:
Alabama: ADS Programming Services www.adsprogramming.com
Arizona: Platinum CRM Consulting www.actplatinum.com
California, Los Angeles: Database-USA www.database-usa.com
California, San Diego: Aaron's Computer Relief www.aaronscomp.com
Colorado: The CRM Connection www.thecrmconnection.com
Connecticut: Squad 16 Consulting www.squad16.com
Florida: Tech Benders www.techbenders.com
Illinois: Mondo CRM www.mondocrm.com
Louisiana: Remote Tech Group www.rtgroup.com
Maryland: Stewart Technologies www.stewarttechnologies.com
Massachusetts: Stellar Technology Consulting www.stellartech.net
Minnesota: Proactive Information Systems www.proactive-is.com
Missouri: Aviva www.thedatabasediva.com
New York: Atlantic Database, LLC www.atlanticdatabase.com
North Carolina: Atlantic Database, LLC www.atlanticdatabase.com
Ontario, Canada: Effective Contact Management www.getyouracttogether.net
Pennsylvania: Capitol Consulting Services www.capitolconsultingservices.com
Rhode Island: Business Technologies of New England www.btne.com
Texas: Proactive Information Systems www.proactive-is.com
Virginia: B & B Consulting Services, Inc. www.bnbconsulting.net
Washington: Platinum CRM Consulting www.actplatinum.com
Contact
The CRM Alliance
Debora Boyle
888-228-2667
thecrmalliance.com

Contact