New First-Hand Account Book of the Life of a Wildland Firefighter Titled: "Wildfire: Memoires of a Wildland Firefighter" by Ralph Ryan. Available at Amazon.com
"Wildfire" is an insightful and riveting account of the physical demands, mental pressures, personal sacrafices, and profound rewards that make up the life of a wildland firefighter. It captures all the drama, fear, family strife, and triumphs of diving out of planes as a Smokejumper to pursue one of the most dangerous occupations in the world.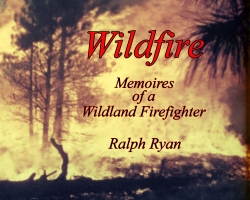 Redding, CA, September 13, 2013 --(
PR.com
)-- "Wildfire" is an exhilarating tale of the lengths one man goes in pursuit of a dream. Told he'll never make the cut to become an elite California Smokejumper, Ralph Ryan employs laser-like focus, a "never give up" attitude, and the calming mental training of Eastern mysticism to earn the right to leap out of planes and fight forest fires. There's beauty and danger in these pages, filled with bird's eye views of the world from beneath a parachute, and raging blazes just steps away. When a parachute accident results in a broken back, Ryan offers all of us a moving lesson in belief in oneself and overcoming our own bleakest days. This is a funny, fast-paced insiders look at one of the most dangerous jobs in the world, and the passion that accompanies Smokejumpers every time they bail above the flames.
Contact
Author Ralph Ryan
Ralph Ryan
530 524 3677

Contact