Ean Williams Sets Template for Aspiring Fashion Designers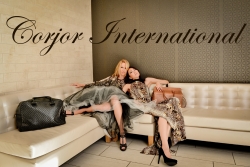 Washington, DC, September 15, 2013 --(
PR.com
)-- The designer whose name and label both are synonymous with impeccable style, spectacular elegance and worldly sophistication, Ean Williams sets the template for other aspiring fashion designers. Williams realized his penchant for fashion early in life. The proud father of now three boys, he introduced the fashion label, "Corjor," via a combination of the names of his two elder sons, Corey & Jordan in 1998. Much to the delight of his admirers, Williams has since expanded his label to include four distinct brands: Corjor Sport, Corjor Menswear, Corjor Couture (available by special order), and most recently, Corjor Magnum series, a couture briefs collection for men.
The short list of some of Williams' noteworthy accomplishments include:
* Former Channel Fox 5 News' Fashion Police correspondent;
* 2003's recipient of New York's "INDIE Best Menswear Designer" award;
* A 2010 appearance as himself in Channel TLC's reality television series, "DC Cupcakes";
* 2010's UDesignateMe.org honoree of the Fashion Icon Award;
* 2011's Council Magazine's "D.C. Metro Designer to Watch in 2012";
* 2012's Industry Achievement Award from Maryland Fashion Awards;
*2012's recipient of Maryland Governor O'Malley's citation for his contribution to the fashion industry; and
* Current advisory board member for the Black Fashion Designers Association.
Williams is also profiled in Upscale Magazine, Prince Georgian Magazine and On Tap Magazine as well as on the front pages of the Washington Times, Gazette, and Washington Life's "Creative Stylist List."
In addition to these accolades, as executive director and founder, Williams has also made history by creating and launching internationally D.C. Fashion Week (DCFW). A partnership of independent fashion designers, producers and models, DCFW is the fastest growing international fashion week exhibit in the world as it now reaches an audience of more than 10 million per event.
Currently, more than 100,000 admirers are following DCFW in anticipation of its 19th season. DCFW is set to present its Spring/Summer 2014 collections at multiple venues in Washington, DC beginning on the 23rd and through the 29th of September 2013.
Drawing inspiration from the styles of fashion icons such as former first lady, Jacqueline Kennedy-Onassis, television personality, Emmy Award-winning talk show host, actress, supermodel Tyra Banks, and four-time Grammy Award recipient Rihanna (to name a few), Williams has chosen world renown Madame Tussauds of Washington, DC (where these mannequins are displayed) to showcase The Cojor International Fashion Show during this season of DCFW.
Contact
DC Fashion Week
Ean Williams
202 600 9274
www.dcfashionweek.org

Contact