Laura Rathe Fine Art Announces Meredith Pardue: "The Elysian Fields"
Notable Dallas Gallery, Laura Rathe Fine Art Announces Solo Exhibition Debut Featuring Acclaimed Abstract Painter, Meredith Pardue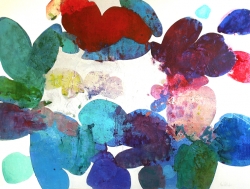 Dallas, TX, September 21, 2013 --(
PR.com
)-- In her upcoming October 12th solo exhibition debut and artist reception at notable Dallas gallery, Laura Rathe Fine Art, contemporary mixed-media painter, Meredith Pardue, unveils her newest series inspired by the Greek mythological landscapes of Elysium. Pardue's artistic expression and references in the exhibition, 'The Elysian Fields' is captured in dramatic, large-scale compositions that highlight her bold spectrum of color and range of depth.
"What remains consistent for me throughout all of the work --the individual pieces as well as the series--is the element of singularity that is somehow compelled into existence for some reason or another. For me this is the very essence of the work, the intangible essence of its being, and the place where the magic happens. The act of noticing something with my senses, of applying a certain meaning to it with my mind, and then to transforming into something else with my hands--the entire process, one might conclude- -is yet grossly incomplete without the intangible essence of its being. It is sacred and unattainable, but we continue to try to know it, to reach it, to touch it, to feel it, to experience it, to comprehend it--and in the case of the artist, to convey it through some kind of sensory means." - Meredith Pardue
'The Elysian Fields' collection and exhibition will be on display through November 17, 2013.
About The Artist
Born in Monroe, LA, Meredith Pardue, is an acclaimed contemporary artist, whose works are widely recognized for its abstract botanical forms and scenes derived from nature.
Upon receiving a B.F.A. from Savannah College of Art & Design in Georgia, she was accepted and completed her M.F.A. at Parsons School of Design in New York. Following her art studies and education, Pardue traveled extensively across the U.S., finding and drawing inspiration from the varied regions and coasts of the South, Pacific Northwest, and Northeast.
Today, Pardue's works continue to gain critical acclaim, and are prominently displayed in several private and notable corporate collections including J. Crew Corporate Headquarters, Genstar Capital, The Michael and Susan Dell Foundation, Oceania Cruise Lines, Scott and White Children's Hospital, and the Savannah College of Art and Design. Her work has been exhibited worldwide and has been published in Architectural Digest, Dwell, New American Paintings, and Austin Monthly Home.
About Laura Rathe Fine Art
Formally established in Houston in 1998, Laura Rathe Fine Art represents a dynamic artist roster including emerging, mid-career, as well as blue-chip contemporary artists. With a primary focus on abstract expressionist painters, LRFA also represents and displays a diverse and select group of sculptors, photographers and new media artists.
Located in the heart of the gallery and design districts of Houston and Dallas, Texas, LRFA regularly hosts artist exhibitions, lectures, and art walks that serve as an integral part of the expanding art scene and community across Texas. LRFA provides art consultation services to private and corporate collectors and to the design industry.
For additional information, details or to schedule an interview, please contact 214.761.2000
Janice Meyers, Director, Janice@LauraRathe.com
Courtney Feavel, Assistant Director, Courtney@LauraRathe.com
Contact
Laura Rathe Fine Art, Dallas
Courtney Feavel
214-761-2000
www.laurarathe.com
Courtney, Assistant Director - Dallas
Janice Meyers, Director - Dallas

Contact