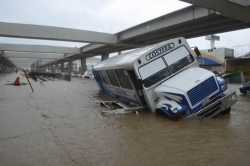 Queretaro, Mexico, September 23, 2013 --(
PR.com
)-- Big Bola Foundation and Javier Rodríguez Borgio, concerned about Mexico's current disasters due to tropical storms Ingrid and Manuel, have started a collection campaign to help victims. In collaboration with Big Bola Casinos, Red Cross Mexico and DIF, Javier Rodríguez Borgio is currently working in operating collection centers all over Mexico. Their main goal is to collect foodstuffs and send them to damaged cities.
As a first effort, Javier Rodríguez Borgio and Big Bola Foundation have already sent 2 tons of rice to Guerrero. Also, in coordination with Queretaro DIF (Integral Family Development Agency) they have made a donation of milk powder and diapers to be delivered to the victims.
They know they need to continue helping, therefore, they urgently ask society participation by bringing to Big Bola casinos the following items:
-Non-perishable or canned food with an expiration date not less than six months. Cans should be "easy open".
-Baby-Food.
-Bottled water.
-Milk powder.
-Personal hygiene products (baby diapers, adult disposable, sanitary napkins, toilet paper and soap).
For logistical reasons it is not currently possible to receive clothing or medicine. However, any donation as mentioned above will be welcomed.
Please pass the word about these collection centers located at the Queretaro and Leon Casinos.
Javier Rodríguez Borgio and Big Bola Foundation will continue to emit helpful information through their social networks and will maintain a high commitment of responsibility to Mexico society. For more information you may visit: javierrodriguezborgio.mx