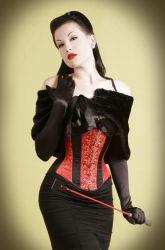 Austin, TX, September 13, 2007 --(
PR.com
)-- These are not your grandma's corsets.
Timeless Trends Corsets
of Austin, Texas, specializes in crafting high-quality, comfortable under-bust corsets, all cut from a Victorian pattern circa 1880. But Timeless Trends' creations differ from corsets women donned in the 19th century, due to the beautiful modern-day materials used to style them – silk, brocade, cotton, cashmere, vinyl, velvet and leather. More than 45 materials are available.
Today's women proudly show off their corsets, without hiding them underneath dresses or other frocks. Fashion-forward celebrities such as Gwen Stefani, Christina Aguilera, Victoria Beckham, Jessica Simpson, Carmen Electra, Celine Dion and Kylie Monogue have flaunted their corsets on stage, on screen and on the red carpet. Indeed, corsets such as those conceived by Timeless Trends Corsets are a fashion fixture for the 21st century.
"Whether you're a star, a bank executive, a waitress or a stay-at-home mom, a corset can make you look and feel sexy, accentuating any size or shape," says Jim Cox, who founded Timeless Trends Corsets in 2004.
Cox is in good company with that view. Australian actress Radha Mitchell once said that "wearing a corset certainly changes your state of mind." But perhaps Polish-born entertainer Anna Held, who was the mother of the Ziegfeld Follies, put it best when she remarked: "To put on a corset properly is as much of an art as to make a corset properly."
Cox couldn't agree more with Held's assessment.
"Timeless Trends Corsets are constructed with steel boning and are durable enough for tight-lacing and waist-training while providing unbelievable comfort and fit for everyday use," Cox says. "Timeless Trends Corsets are ready-made and shipped within two business days from the time an order is placed. We do not do any custom work, which is why we are able to offer a quality corset for a reasonable price."
Customers of Timeless Trends Corsets are impressed, with one gushing that her Timeless Trends Corset is "seriously the most comfortable corset I've ever had" and another raving that her Timeless Trends Corset is "stunning." Prices for Timeless Trends Corsets range from $99 for those made from fabric to $139 for those made from leather. Timeless Trends Corsets can accommodate waist sizes from 23 inches to 44 inches.
"Timeless Trends Corsets are meant to be a fun, feminine, flirty complement to a woman's wardrobe," Cox says. "Timeless Trends Corsets can add a big dose of glitz when you paint the town red, set the tone for your honeymoon, spark a romantic mood for Valentine's Day or serve as the foundation for a fantastic Halloween costume."
For more information about Timeless Trends Corsets, visit
www.timeless-trends.com
. To interview Jim Cox about Timeless Trends Corsets or corset fashion trends, contact John Egan of UpWord Communications at 512-799-1022 or john@upwordcommunications.com.
###