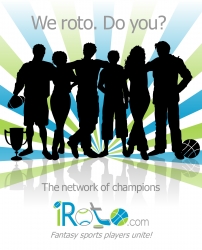 Fort Lauderdale, FL, September 11, 2007 --(
PR.com
)-- www.iRoto.com, an independent social networking community for fantasy sports players, launched early last week. iRoto helps fantasy sports players meet, speak, and network with other fantasy sports players. Members can talk about trades, strategies, who to start and sit, and news live through numerous features. iRoto provides:
- Profiles Pages (connections)
- Message Boards
- Blogs
- Live Chat Rooms
- League Requests (Classifieds for players trying to find a league and leagues trying to fill open spots)
- Social News
- Groups
- and many more features...
iRoto will be introducing many features in the coming weeks including the iRoto Rep. The iRoto Rep ranks every member of iRoto based on their community involvement so that members can rest assure they are getting solid fantasy advice.
###