Xclaimed Ministries Provides Free Toys, Bicycles and Home-Goods
Xclaimed Ministries provided free cooked meals, toys and home-goods to over 420 people at their final concert of the summer.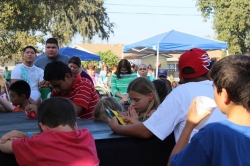 Stanton, CA, September 25, 2013 --(
PR.com
)-- Xclaimed Ministries provided free cooked meals, toys and home-goods to over 420 people on Saturday, September 21, 2013 as part of their on-going effort to strengthen the people in the community. Children received bicycles, scooters, Barbie dolls, soccer balls, air rockets, art kits and many other amazing toys. Adults were able to choose from hundreds of items donated by The Home Depot and Bed Bath & Beyond such as comforters, blankets, trash cans, soap dispensers, shades, kitchen cabinets, ceiling fans, storage bins and chandeliers.
Paul Karanick, co-founder and evangelist of Xclaimed Ministries, said, "We have been doing this type of outreach event since 2005 and it just seems to get better each time we do it. Our church is a small group of less than 50 people, but we have been able to reach over 23,000 people since we began doing these outreach concerts. We are especially thankful for the donations of The Home Depot, Bed Bath & Beyond, Nike (donation of soccer balls and shoes), Mattel, The Lockman Foundation (donation of Bibles) and the twenty or so individuals who financially help us provide these resources. Our purpose is simple; we are a Christian, non profit 501(c)(3) charitable organization that provides basic living necessities and opportunities for families to gain sustainability and confidence in their lives. Our focus is to help people with items they need now. This mission goes beyond food and clothes; we provide bicycles, toys, entertainment, bedding and other daily essentials that bring gratification to the less fortunate that they typically couldn't afford. Our primary purpose is to be a reflection of Jesus Christ so that many lives will be changed."
The next event coming up for Xclaimed will be their 5th Annual Christmas Festival on December 14th, 2013. Last year about 1,000 people attended; Karanick is anticipating nearly 1,300 for this year. There is a need for toy donations for this upcoming event. For donation information call (657) 888-3461.
Additional information about Xclaimed Ministries visit http://www.xclaimed.org or
http://www.facebook.com/xclaimed
.
Contact
Xclaimed Ministries, Inc
Paul Karanick
(714) 803-9692
http://www.xclaimed.org
10871 Western Ave
Stanton, CA 90680

Contact