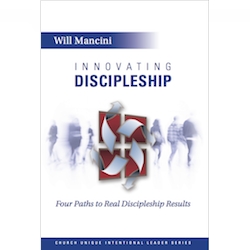 Houston, TX, September 25, 2013 --(
PR.com
)-- Author Will Mancini describes four paths to discipleship results in his book, "Innovating Discipleship."
Over the past few years, the question of how churches go about developing disciples of Jesus Christ has been hotly debated among church leaders. For example, Willow Creek's Reveal book series confirmed the unspoken fears of many church leaders that the default programming of most churches is not producing the kind of deep, significant life change in people that every church leader longs for and works to achieve. This has left church leaders grappling for answers.
In his new book, "Innovating Discipleship: Four Paths to Real Discipleship Results," author Will Mancini offers a practical framework that moves the discussion beyond existing models and best practices. Instead of touting a new model for every church to adapt, Mancini provides a simple and powerful tool that guides church leaders, step-by-step, into the freedom and confidence found in designing a unique, effective discipleship approach for a specific time and place. By empowering church leaders to understand the four potential paths that lead to discipleship results, Mancini equips each church leader to design and build a discipleship process that is unique to the environment where they serve.
This approach is in line with Mancini's first book, "Church Unique: How Missional Leaders Cast Vision, Capture Culture, and Create Movement." In it, Mancini detailed a framework for church leaders to understand and articulate their unique mission and vision rather than borrowing language from other successful ministries (avoiding what Mancini calls "photocopied vision"). Since the release of Church Unique, the team at Auxano (Mancini's clarity-first church consulting group) have spent thousands of hours coaching and interacting with church leaders all across North America, helping them serve their communities more effectively through understanding their uniqueness.
"Innovating Discipleship" is the first book in Mancini's Church Unique Intentional Leader series. As such, it builds on the principles found in Church Unique and takes them further. In this first volume, Mancini gives church leaders the tools they need to develop a unique discipleship plan that really makes disciples of Jesus. For church leaders that want to move beyond just holding services week after week and aren't impressed with the latest discipleship fads, "Innovating Discipleship" is a God-send.
"Innovating Discipleship" is available on Amazon.com: auxa.no/15ppwz8
If you'd like more information about this topic, or to schedule an interview with Will Mancini, please email Tessy Rice at tessy@auxano.com or call (800) 894-0991.
"Innovating Discipleship: Four Paths to Real Discipleship Results" is available at Amazon.com.