MarketResearchCareers Announces Market Research Suppliers with the Highest Level of Customer Satisfaction
Firefly, C&R Research, Forrester, Research Now, and QuestionPro earn top marks from their customers.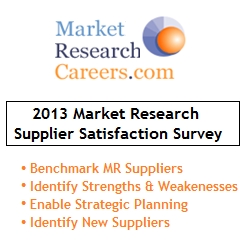 Austin, TX, September 26, 2013 --(
PR.com
)-- The fifth annual
Market Research Supplier Satisfaction Survey
released by MarketResearchCareers quantifies the current satisfaction levels of 60 MR suppliers as determined by each company's own customers. Organizations with the highest level of overall customer satisfaction this year, by industry segment, are: Firefly, C&R Research, Forrester, Research Now, and QuestionPro.
"The satisfaction scores uniquely enable suppliers to directly compare the satisfaction levels with competitors on an apples-to-apples basis, identify sources and changes in satisfaction over time, and enter the upcoming strategic planning cycle with actionable data," said Mike Carroll, Vice President of Sales and Marketing for MarketResearchCareers.
For each of the 60 suppliers, six critical satisfaction metrics, including customer service and price, are provided -- including trended data from last year's edition. The report also identifies shifting industry trends and development opportunities for providers of Qualitative Research, Full Service Research, Syndicated Research, Online Sample, and Online Survey Software.
The three suppliers with the highest level of overall customer satisfaction by market research segment include:
Qualitative Research
* Firefly
* C+R Research
* Understanding Unlimited
Full Service Research
* C&R Research Services
* KS&R
* Opinion Research
Syndicated Research
* Forrester
* Simmons
* DataMonitor
Online Sample Providers
* Research Now
* Authentic Response
* Epocrates
Online Survey Software
* QuestionPro
* SurveyGizmo
* SAS
The report is also a valuable resource for buyers of market research as satisfaction scores can be used to identify new potential suppliers with strengths aligned with a buyer's particular needs.
"As the industry continues to undergo dramatic change, we wish to congratulate every market research supplier that improved at least one of the six critical customer satisfaction metrics," said Carroll.
The survey was conducted between August 14 and August 30, 2013 capturing the opinions of 525 market research professionals.
About MarketResearchCareers
MarketResearchCareers is the career website with the most comprehensive database of resumes and jobs focusing exclusively on the Market Research industry.
Visited monthly by nearly half of all market research professionals in the United States and possessing the resumes of more than 40,000 market researchers, MarketResearchCareers provides real-time staffing solutions. See why so many corporate hiring managers, human resource professionals, market research suppliers, and thousands of skilled researchers turn to MarketResearchCareers to fill available market research jobs.
Visit MarketResearchCareers on the web at http://www.marketresearchcareers or call MarketResearchCareers at 1-800-872-5401.
Contact
MarketResearchCareers
Mike Carroll
800-872-5401
www.marketresearchcareers.com

Contact
Multimedia
Table of Contents, Methodology, and Participant Profile