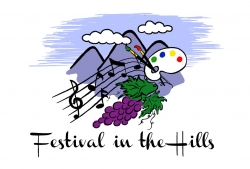 Union, WV, September 27, 2013 --(
PR.com
)-- On October 19th New Language Art will host their 2nd annual wine, beer, food and art festival from 12 Noon to 6 PM at the Old Sulphur Springs Resort, Union WV benefiting surrounding county artists to include the Monroe Arts Alliance, Giles County Arts Council, the Greenbrier, Summers and Mercer Counties artists. It will be a fun packed event with local wines, beer, foods, music and the artists will have items on display and for sale.
Throughout the day, two West Virginia wineries, Watts Roost Vineyard, Lewisburg, VU JA DE, Spencer and American Brewing Meadow Bluff will provide tastings and sale of beer and wine.
Local eateries will offer food for sale: 50 East & Vines & Grinds, White Sulphur Springs; The Hall Tavern & The Korner Kafe Union WV; Bella The Corner Gourmet Lewisburg WV and NLA Catering Greenville WW will provide gourmet delights for sale.
And threading through all the other enjoyable things to see and taste is the music which will be provided by The Carpenter Ants, Doc Greenberg's Patient Jazz Band, Little Sparrow and Option 22.
Salt Sulphur Springs Historic District is a national historic district located at
Salt Sulphur Springs
(Monroe County), WV
. The district includes seven contributing buildings, three contributing sites, and two contributing structures related to the Old Salt Sulphur Springs Resort or "Old Salt." Notable properties include the Old Stone Hotel, Episcopal Chapel, Stone Store Building (1820), Stone Bath House (1820), Stone Spring House (c. 1820), Sweet Sulphur Springs Site (discovered 1802), Salt Sulphur Spring (discovered 1805), and Iodine Spring (1838). It is the area's most significant collection of native limestone buildings and is listed on the National Register of Historic Place in 1985.