Two Lucky Fans to Throw "Ceremonial First Pitch" at Seattle Mariners Baseball Games This Weekend at Safeco Field
"First pitch" drawing winners announced by Seattle Mariners official sponsor Luna Family Hearing for throwing out ceremonial first pitch on Friday, September 27th and Saturday, September 28th games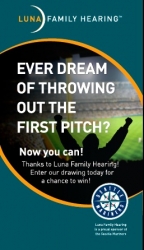 Seattle, WA, September 27, 2013 --(
PR.com
)-- Luna Family Hearing, a Northwest leading hearing care provider and an official sponsor of the Seattle Mariners, announces today that two winners of its drawing for the opportunity to throw out the first pitch have been selected. The lucky winners will have the opportunity to throw out a ceremonial pre-game first pitch at two of the final 2013 season Seattle Mariners home games and get their pictures taken on the field. Luna Family Hearing is the exclusive sponsor of "Senior Sundays" with the goal of reaching fans in an effort to educate about hearing loss awareness, hearing loss prevention and hearing aids. Luna Family Hearing is a local family owned and operated hearing care company.
The "First Pitch" winners are:
Friday, September 27, 2013, 7:10pm game time against the Oakland Athletics at Safeco Field
- Gary Kelly, 38, of Ritzville, WA
Gary and his wife, Leslie, have 4 boys - 12 year old Bryce, 11 year old Drew, 7 year old Jayce, and 5 year old Ledger. Gary is a fuel marketer and plant manager for NGL Supply in the Pacific Northwest. Gary helps coach the Lind Ritzville High School boys' basketball team, as well as coaching Bryce's Jr. High School baseball team. Gary is active and involved with all his boys' Little League baseball teams. Gary and his family love to go Seattle Mariners games, as well as any WSU Cougar sporting event. Gary's family loves to go camping, hunting, fishing and riding motorcycles and of course, baseball! Gary entered the Luna Family Hearing sponsored "First Pitch" drawing at a Mariners game.
Saturday, September 28, 2013, 1:10pm game time against the Oakland Athletics at Safeco Field
- John Wirtz, 76, of Kent, WA
John was born and raised in Minnesota. John and his wife Marion have been married for 28 years and reside in Kent, WA. John is a Veteran who served in the U.S. Army in Korea for 3 years. John is currently still working at age 76 for Haggen, Inc., owners of Haggen's, TOP Food & Drug and Haggen's Northwest Fresh. He is a current hearing aid wearer and customer of Luna Family Hearing in Renton, WA where he entered his wife's name along with his because, as he states, "Marion is the lucky one and always brings good luck." It worked, and John will throw out the first pitch with Marion on-field at the game to support him!
About Hearing Loss
Nearly 40 million Americans have hearing loss. Most frequently, it is due to repeated exposure to loud noises—at concerts, nightclubs, crowded restaurants, loud workplaces, and sporting events like baseball and football games. What few people realize, though, is how easy it is to get a hearing test by a licensed hearing care professional. And it's free at Luna Family Hearing! If it turns out that hearing aids are needed, today's hearing aid technology allows wearers to hear from all directions, in all sorts of sound environments, and even underwater. The hearing aids are digital, wireless, and can even connect directly to your smartphone or television. For more information on hearing loss, call 855-HEAR-NOW, stop by one of the 11 local family owned Luna Family Hearing offices in Washington and Oregon, or visit
http://www.lunafamilyhearing.com
to find a location convenient to you.
For more information: Contact John Luna at John.Luna@LunaFamilyHearing.com, 425-358-0956.
Contact
Luna Family Heairng
John Luna
425-358-0956
lunafamilyhearing.com

Contact
Multimedia
"First pitch" drawing winners announced by Seattle Mariners official sponsor Luna Family Hearing for throwing out ceremonial first pitch on Friday, September 27th and Saturday, September 28th games