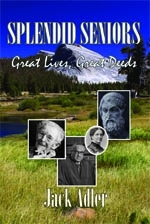 Nashville, TN, September 12, 2007 --(
PR.com
)-- Pearlsong Press is seeking nominations for its year-long "Splendid Seniors Among Us" program. The award is given monthly to living seniors who have accomplished an inspirational goal or action after the age of 65. The goal can be related to creative work, charity work, community involvement, political action, or any inspirational accomplishment.
Honored seniors receive frameable certificates recognizing their "Splendid" status, as well as autographed copies of Jack Adler's book Splendid Seniors: Great Lives, Great Deeds, published by Pearlsong Press in March 2007. The award is announced at the Pearlsong Press blog and website, and the senior's hometown media and mayor's office are notified of the honor.
At the end of the promotional period in March of 2008, the 12 honorees of the "Splendid Seniors Among Us" program will be included in a special Adobe PDF ebook that can be downloaded at no charge at the Pearlsong Press website.
There is no fee for nominating a senior for the "Splendid Seniors Among Us" program.
All nominations can be mailed to Pearlsong Press at P.O. Box 58065, Nashville, TN 37205, emailed to splendidseniors@pearlsong.com, or faxed to (615) 352-4222.
More information on the "Splendid Seniors Among Us" award, as well as information about Pearlsong Press itself, can be found at the company's website at www.pearlsong.com.
###