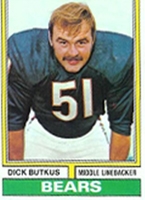 Vancouver, WA, October 01, 2013 --(
PR.com
)-- Butkus to Discuss Reaching 51st Year of Marriage to High School Sweetheart.
Legendary pro football Hall of Famer Richard ("Dick") Butkus has achieved a milestone not often experienced by celebrities – he is enjoying his 51st year of marriage to his high school sweetheart Helen.
Butkus will be honored by Marriage Team, the Vancouver, Wash.-based non-profit organization dedicated to building strong marriages, at a special Tailgate Event, Saturday evening, November 2, at the Vancouver Hilton Hotel and Convention Center. The event is open to the public with tables and individual tickets available through
www.marriageteam.org/tailgate
.
The event will begin with a reception for people to meet and take photographs with Mr. Butkus, followed by a dinner event that will include auction items and an interview-format presentation with Mr. Butkus. He also will present a list of tips for a long-lasting marriage developed in partnership with his wife Helen.
Butkus played middle linebacker for the Chicago Bears wearing the now-retired jersey #51. He is widely regarded as the best linebacker and one of the best defenders in the history of football, due to his memorable toughness and tenacious performance on the field. His video highlights remain a popular pregame inspiration in locker rooms across the country 40 years after a knee injury forced him to retire from football.
When asked about the secrets of his success, it doesn't take long before he tips his hat to wife Helen, who has stood by his side steadfastly through an iconic football and ensuing business and entertainment careers. Together, Dick and Helen have three children and four grandchildren.
Butkus has enjoyed a successful career in entertainment and business, including appearing in more than 200 commercials and television programs, serving as a sports broadcaster, and working alongside Arthur Jones, the late founder of Nautilus, to introduce strength training to millions. For 29 years, the Butkus Award® has been presented to linebackers at three levels of play. Meanwhile, he has boldly discouraged the use of steroids among teens through an I Play Clean™ educational initiative.
MarriageTeam is a non-profit social service agency founded in 2007 for the purpose of equipping married and engaged couples with the tools they need to chart a successful marriage relationship. MarriageTeam helps couples seeking pre-marital, enrichment and restoration coaching.