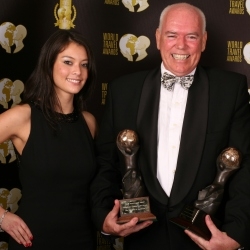 Rarotonga, Cook Islands, October 02, 2013 --(
PR.com
)-- Pacific Resort Hotel Group dominates at 20th Annual World Travel Awards
Pacific Resort Hotel Group is once again proud to announce that Pacific Resort Aitutaki has dominated at the Asia & Australasia regional ceremony for the 2013 World Travel Awards, capturing three major titles, also qualifying the 5 star boutique resort as finalists for the "World's Leading" category.
The Wall St Journal promotes the event as the "Travel Industry's equivalent to the Oscars" and at this year's red carpet ceremony on October the 1st, Pacific Resort Aitutaki was awarded "Australasia's Leading Boutique Resort," "Cook Islands' Leading Resort" and "Cook Islands' Leading Villa Resort." The prestigious World Travel Awards Asia & Australasia Gala Ceremony 2013 was held at Anantara Dubai The Palm Resort & Spa in Dubai, United Arab Emirates.
All regional winners will now compete head to head in a final round of voting to decide who will triumph in WTA's world awards – the ultimate accolade in the travel and tourism industry. The winners are announced on the night of the WTA Grand Final in December.
Pacific Resort Aitutaki has certainly been in the limelight in 2013 and this success has come hot on the heels of recent announcements of Pacific Resort Aitutaki being honoured as the "South Pacific Property of the Year" at the HM Awards for Hotel and Accommodation Excellence 2013 as well as the recipient of Seven Star Global Luxury Award 2013.
Greg Stanaway, CEO of Pacific Resort Hotel Group is proud of Pacific Resort Aitutaki's achievements, "I am delighted that the combined efforts of our owners, management team and staff is being recognised with these accolades as we continue to enhance our guest experience at Pacific Resort Aitutaki," he said. "More importantly it is an acknowledgement by our global travel partners that they have great confidence in our product and our delivery."
World Travel Awards was established in 1993 to acknowledge, reward and celebrate excellence across all sectors of the tourism industry. Today, the WTA brand is recognised globally as the ultimate hallmark of quality, with winners setting the benchmark to which all others aspire.
Notes to Editors
About Pacific Resort Hotel Group
PRHG develop boutique Island resorts and hospitality facilities which are underpinned by a focus on local culture, the environment, and unique architectural and landscaping design to provide discerning guests an authentic South Pacific experience. PRHG successfully owns and operates two award winning resorts under the Pacific Resort brand and a new property under the Te Manava Luxury Villas & Spa brand in the Cook Islands. For more information visit
www.pacificresort.com
About Pacific Resort Rarotonga
Authentic Boutique… Located in the South Pacific island nation of the Cook Islands Pacific Resort is Rarotonga's leading full-service authentic boutique resort situated in an unrivaled location on the glorious white sands of Muri beach. This premium boutique resort offers a perfect blend of modern comforts and traditional island hospitality. A place where simple, lazy days meet luxurious evenings. And where the friendly, gracious staff meet your every request.
About Pacific Resort Aitutaki
Secluded Luxury…Like a siren of the Pacific, Aitutaki, Cook Islands, beckons you. This magical place, full of South Seas idyll and romance, is home to Pacific Resort Aitutaki, an enclave of privacy, refinement and luxury, that seduces even the most discerning traveler. Pacific Resort Aitutaki member of the Small Luxury Hotels of the World collection has just 27 luxurious 'absolute beachfront' bungalows, suites and villas all with their own personal, panoramic view of Aitutaki's world-famous lagoon, where every sunset majestically captures the colours of the lagoon and the ocean beyond.
About Te Manava Luxury Villas & Spa
The road less travelled…You're a traveler who appreciates beautiful surroundings and luxurious five star accommodation…and you also value your independence. Te Manava Luxury Villas & Spa has been designed just for you. This new Cook Islands concept in luxury accommodation gives you the freedom to personalise your own leisure experience. Set on the beautiful white sand beach of Rarotonga's stunning Muri lagoon, your private villa awaits. How you choose to use it is completely up to you.