Captiva Spine's Proprietary PivoRod® Articulating Minimally Invasive Spinal Rod Receives New U.S. Patent Allowance From US Patent Office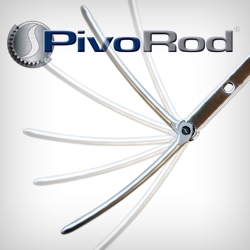 Jupiter, FL, October 03, 2013 --(
PR.com
)-- Captiva Spine, Inc., a medical device organization dedicated to developing and distributing spinal technologies in the US and internationally, announced today that a new U.S. patent has been allowed by the USPTO for Captiva Spine's Proprietary PivoRod® Articulating Minimally Invasive Spinal Rod.
Dale Mitchell, President and Founder of Captiva Spine said, "The PivoRod® has been purposely designed for enhanced control required during minimally invasive (percutaneous) spinal rod delivery." Mitchell added, "The PivoRod® articulating spinal rod complements Captiva's recent FDA clearance of TowerLOX® MIS Pedicle Screw System that now allows surgeons to perform multi-level fusions with this proven minimally invasive system."
Captiva Spine will be exhibiting at the upcoming North American Spine Society(NASS) held in New Orleans, LA October 9-11th. All of Captiva's systems will be available for hands-on demonstration for attending spine surgeons and industry professionals. Distributor inquiries are welcome.
About Captiva Spine, Inc.
Founded in 2007, Captiva Spine is a privately owned medical devices organization headquartered in Jupiter, Florida. Captiva Spine is committed to creating and maintaining sincere, honest, collaborative relationships in the spine industry for the advancement of products, technologies and outcomes. Captiva's mission is to provide smart, elegant and intuitive solutions for patients, surgeons, distributors and healthcare facilities.
Contact
Captiva Spine, Inc
Dale Mitchell
877-772-5571
www.captivaspine.com

Contact