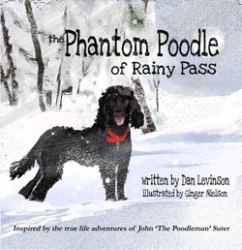 Emerald Hills, CA, October 17, 2013 --(
PR.com
)-- The Phantom Poodle of Rainy Pass is a new children's book that will delight readers ages 8-12 and anyone who is young at heart and loves Poodles. Two girls meet and become best friends. On a winter picnic they spot something in the woods but what could it be?
Inspired by the true life adventures of John 'The Poodleman' Suter and his team of Standard Poodles who ran the Alaskan Iditarod from 1988-1991. Dan and Nancy Levinson hosted the Suters' at the end of their Iditarod campaigns. Dan Levinson loved to tell stories but this was the only one he ever wrote down.
Ginger Nielson is a full time children's book illustrator who has a magic wand on her desk and a dragon in her basement.
Poodle Dog Productions is the creator of the award winning "Flying Poodles A Christmas Story."
The Phantom Poodle of Rainy Pass is available in printed and e-book format at Amazon.com or directly from www.Flying-Poodles.com
A portion of the proceeds will be donated to Smile Train – Saving the World one Smile at a time.