Healthy Directions & Dr. Williams Debut Probiotic Advantage® + Cranberry, a Unique Women's Supplement
Healthy Directions, a top source of natural health advice and doctor-formulated nutritional products, launches Probiotic Advantage® + Cranberry, an exclusive cranberry probiotic supplement that promotes women's digestive and urinary health.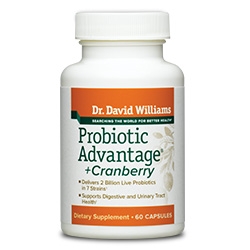 Potomac, MD, October 10, 2013 --(
PR.com
)-- Healthy Directions, LLC, today announced the launch of Probiotic Advantage® + Cranberry, a unique cranberry probiotic supplement formulated by Dr. David Williams that safely and naturally supports women's digestive, bladder, urinary, and vaginal health.
Probiotic Advantage® + Cranberry contains two billion live bacteria from a blend of seven targeted strains—L. acidophilus, B. lactis, B. coagulans, L. plantarum, L. rhamnosus, B. fidium, and B. longum—that are guaranteed through expiration, not simply at time of manufacture. These probiotics help restore optimal levels of beneficial bacteria in the gut, as well as in the vagina. This women's supplement also contains prebiotics to help sustain the probiotics and promote regularity; and PACran®, a proprietary standardized cranberry extract that has been clinically shown to support a healthy urinary environment.
"Most people are familiar with the digestive benefits associated with probiotic supplements and foods, but they aren't aware that certain strains of these beneficial bacteria also help to maintain women's vaginal, urinary, and bladder health," says Dr. David Williams, a medical researcher, biochemist, chiropractor, and leading authority on natural healing. "Cranberry supplements and juice are also well known for their ability to inhibit bacteria such as E. coli from adhering to the walls of the urinary tract. That's why I was thrilled when I discovered a way to include these powerful ingredients in a single supplement."
Probiotic Advantage® + Cranberry also utilizes special vegetarian, time-release capsules that ensure the live bacteria survive exposure to stomach acid and make it to where they are needed most. In addition to providing overall digestive and urinary health benefits, this proprietary formula reduces bloating and gas and supports immune function.
"Many women rely on probiotics and cranberry products to help alleviate occasional digestive and urinary discomfort," says Healthy Directions CEO Connie Hallquist. "So I'm delighted that Healthy Directions and Dr. Williams were able to develop a unique supplement that safely and effectively tackles both concerns at one time, while also providing the comprehensive support women need for overall health and well-being."
Probiotic Advantage® + Cranberry is available at drdavidwilliams.com and healthydirections.com.
About Healthy Directions
Healthy Directions, LLC, a leading health publisher and direct-to-consumer retailer of doctor-formulated nutritional supplements and skincare products, is dedicated to helping people lead healthier, happier lives. Healthy Directions provides expert guidance and advanced nutritional supplements from America's most knowledgeable and highly respected integrative and alternative health doctors including Julian Whitaker, MD, Dr. David Williams, Stephen Sinatra, MD, Susan Lark, MD, Aaron Tabor, MD, Richard Wurtman, MD, and Joseph Pergolizzi, Jr., MD.
Contact
Healthy Directions
Marcie Baetcke
301.340.7788 1204
www.healthydirections.com

Contact