LJM Publishing, LLC Reaches Milestone with the Release of Janice Limb Myers' 37th Children's Book
LJM Publishing, LLC, a Dallas-based publishing company assisting self-publishing authors, has reached a new level of books published with a single author as they publish the 37th children's book by Janice Limb Myers.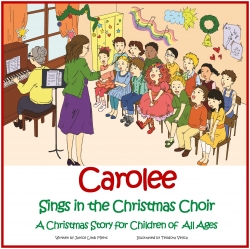 Dallas, TX, October 14, 2013 --(
PR.com
)-- LJM Publishing, LLC is proud to announce the publication of the 37th children's book written by best-selling author Janice Limb Myers titled "Carolee Sings in the Christmas Choir, A Christmas Book for Kids of All Ages." Marking the milestone for the company, J.E. Bell indicated, "We expect this book to become another Christmas Classic that will captivate the hearts of young and adult readers alike and propel Mrs. Myers and LJM Publishing to a new level in assisting self-publishing authors in getting their books in print. Amazon.com has placed this book on its free download list for October 15 – 17, 2013." Also being published simultaneously is a Spanish version of the book, "Carolee Canta en el Coro Navideno, Una Relato Navideno para Ninos de Todas las Edades."
Currently at 37 books, Mrs. Myers is the most prolific of the writers working with LJM Publishing. This new book will be available on the 15th of October, 2013 on Amazon.com in print and on Kindle and in a few weeks in bookstores everywhere. J.E. Bell continued, "This may be the sweetest and most touching book this holiday season 'Carolee Sings in the Christmas Choir, a Christmas Book for Kids of All Ages' tells the story of an eight-year-old angel who is part of a heavenly choir preparing for a Christmas Eve performance. Carolee wants to become a singing Superstar but her plans are thwarted when something goes terribly wrong at choir practice, ending, of course, in a surprising and happy ending."
­­In reviewing the book, author Martica Leonard expressed: "What a delightful and riveting children's book! I honestly could not put this down for even the slightest moment, so captivating are both the story line and the illustrations! The fact that the story and all the characters revolve around being angels in heaven, made the book and underlying message an inspiring and reassuring tale of life after death. This book could be used very successfully for chronically ill children, or children facing their own, or another's mortality. Simply and beautifully presented, the story makes life after death a most intriguing adventure.... I even missed the fact that Carolee was an angel till my second read through, so real and lifelike are all the characters... not mystical or otherworldly at all, simply kids being kids, and teachers being teachers, all playing out in the celestial realms, which appear to be very like our everyday lives. And of course, the surprise guest at the end made Carolee's challenge and ultimate victory all the sweeter; a lovely message for children and their families."
LJM Publishing, LLC is a leading publication company in Dallas, Texas assisting authors from all over the world in the publication of inspirational books in most genres. The book can be purchased at:
http://www.amazon.com/dp/B00FJMBEIG
.
Contact
LJM Publishing LLC
J.E. Bell
214 952 5656

Contact