Lightning Nominated Race Engine of the Year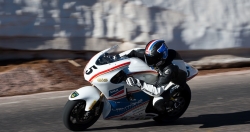 San Carlos, CA, October 31, 2013 --(
PR.com
)-- Lightning made history at the 91st Pikes Peak International Hill Climb this June winning against the world's best motorcycles. Lightning won first place overall and over 20 seconds faster than the closest world-class gas-powered motorcycle.
With this accomplishment, Lightning was nominated by Race Engine Technology magazine to be the Race Engine of the year. The nominees are Lightning Pikes Peak battery electric powertrain, Drayson Lola land speed record battery electric powertrain and MotoCzysz TT Zero battery electric Powertain.
Race Engine Technology magazine invited 50+ race engine engineers to be the judging panel. Lightning is honored to be nominated. Below is the comment from Race Engine Technology magazine.
"It is now the eighth anniversary of our Race Engine of the Year Awards, accolades much coveted by the recipients since they represent the verdict of a jury of their peers. No fewer than 50 race engine engineers are invited to join our judging panel, and they represent many diverse forms of motorsport right across the globe. From the nominations on these pages there will be a winner in each category and a winner overall. These nominations are made by the Race Engine Technology magazine editorial team based on close observation of all forms of professional racing worldwide. We don't then have exactly the same judging panel each year – we mix it up a bit – but all of our 50 judges are always practicing professionals in the world of race engine design and development. We look forward to revealing the winners in Race Engine Technology 75 (in our December 2013/January 2014 issue)! The Lightning Motorcycle Pikes Peak battery electric powertrain has been nominated in the Alternative Power category ….."
Find out more about Race Engine Technology magazine, go to https://www.highpowermedia.com/.
About Lightning Motorcycles
Lightning Motorcycle has been involved in researching and manufacturing electric two wheeled transportation (E2W). Lightning builds the fastest production motorcycle in the world, won many road racing competitions and set several world speed records. Lightning's solutions have been used in various applications, from fuel cell hybrid electric buses, hybrid cars, electric motorcycle, electric ATV, electric yard trucks for ferrying shipping containers, professional ocean racing sailboat and many other areas. Our mission is to build 2 wheel electric transportation (E2W) that has superior efficiency, performance, and affordability than current gasoline alternatives. www.lightningmotorcycle.com
Contact
Lightning Motorcycle
Jojo Chang
408-410-4637
www.lightningmotorcycle.com

Contact