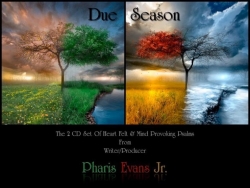 Gary, IN, October 31, 2013 --(
PR.com
)-- Pharis Evans Jr. (PEJ) is a man and a brand. Now involved in both the music industry & music business, Pharis has dual purposes, and wears many hats… writer, producer, artist, and Record Exec. A now he is C.E.O of his own independent label, "Fountain Of Life Records," (FOL), Pharis Evans Jr. has been busy to say the least, and in the process has taken some time to complete a 2 CD Set project entitled Due Season.
"It's Time…It's Simply Time", PEJ states, as it relates to his Double CD project which is scheduled to be released November 12, 2013.
It's been some time since Pharis has stepped on the scene solo, & he has returned with a purpose. Having a benevolent duty, both Pharis & FOL are donating 30% of the sales to the charity/foundation "Uncle Bernie's' Kidz (kids whose parents are incarcerated). Pharis has been the pen and producer behind a number of great gospel artists & their projects, but now he is releasing his own personal & purposed body of work that has something for everyone…old and young alike.
This project exhibits Pharis' diverse ability to write, produce and captivate a vast audience. Due Season is compiled of Traditional Gospel Inspirations full of spirit filled foot stomping, powerful music, as well as Contemporary Inspirations that is everything from edgy to soulful and will surely minister to all as it truly exceeds the boundaries of the gospel music category. Yes, 2 CDs, Contemporary Psalms & Traditional Psalms, which feature various genres of wholesome music in which PEJ melodically paints Audio Art. This body of work also confirms the skills this minstrel has exhibited time and time again such as with past writing like, "This Joy" by Yolanda Adams, and "I Wanna Say Thank You" by Saints With a Vision and many more. Now Pharis Evans Jr. by way of Fountain Of Life Records, brings us Due Season.
This project will surely reach the hearts and souls of the masses...
"Due Season" available 11.12.13 on all digital media outlets.
Contact: Vel Wilson For Immediate Release
Email: tylayculture@aol.com
Telephone: 219.678.8359