Eye of the Tiger: Fashion Affair Magazine by New York Commercial Fashion Photographer Steven Paul
New York Commercial Fashion Photographer Steven Paul, his photographs are bold, sensual and evocative – playing with dramatic lighting and cinematic narratives creating provocatively stunning images. Steven Paul captures deep emotion, dark desires and hidden secrets – infusing even the most seemingly banal scene with drama and passion. Paul melds avant garde fashion with thought-provoking imagery for a fresh take on fashion photography.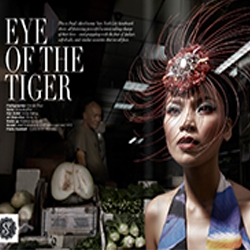 New York, NY, November 25, 2013 --(
PR.com
)-- In Commercial Fashion photographer Steven Paul's latest cinematic narrative, fierce fashion meets an equally fierce heroine. Paul depicts the heroine collecting money from local businesses and firmly establishing her role as Chinatown's newest "boss."
At the same time, Paul and model Meki from ONE Management NYC are not afraid to play with the duality of strength and vulnerability. In private, Meki lets down her guard as she faces self-doubt, before recomposing herself and continuing on with "business as usual." But underneath Meki outwardly fierce exterior, universal fears still linger.
Paul's dramatic lighting heightens the fierce fashions. Even in the bright light of day, Meki moves within the shadows, stepping out only briefly from her car to collect payment. "This shoot truly showcases the importance of lighting and accessories for creating a persona," says Paul, who worked closely with stylist Phil Gomez and art director Vicky Yu to create the shoot's unique look and feel.
Make up artist Robbie Minjarez created Meki's smoldering cat eyes, adding edgy intensity for a modern twist on traditional eyeliner. "Together, they started with a simple vision of iconic Chinatown and female power, and grew this vision into a complete narrative arc," says Paul. "Working with Gomez, Yu, Tseng and Minjarez was an incredible collaborative experience. Our creative visions all came together perfectly to create this story."
Contact:
Fashion Affair Magazine:
Teresa Lipsey Editor
Teresa.Lipsey@FashionAffairMagazine.com
FashionAffairMagazine.com
Steven Paul Photography
info@stevenphotography.com
stevenphotography.com
Contact
Steven Paul Photography
Steven Paul
1.347.690.5570
stevenphotography.com

Contact