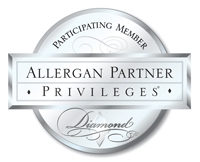 Lehigh Valley, PA, November 06, 2013 --(
PR.com
)-- Dr. Thomas E. Young, owner and Medical Director of Young Medical Spa®'s three locations in Center Valley, Lansdale and King of Prussia, Pennsylvania stated "We are honored to achieve Diamond level provider status by Allergan as it is a confirmation of our dedication to each patient that their goals and satisfaction are crucial to the success of our practice."
Building on years of experience with the latest minimally and non-invasive treatment options has led Young Medical Spa® to this level of success and distinction as a Diamond level provider of BOTOX®, Juvéderm® and Latisse®.
BOTOX® injections are a non-invasive treatment option for patients desiring a more youthful appearance and improvement in facial lines and wrinkles that takes minutes to complete, only a few days for results to fully appear, and do not require surgery or downtime allowing patients to return to their normal routines immediately.
Allergan is also recognizing Young Medical Spa® with Diamond level provider status for their experience with Juvéderm® and Latisse®. Juvéderm® is a smooth gel dermal filler product that provides natural-looking results by instantly smoothing fine lines and wrinkles with long-lasting results. "Our patients love the feel of the product and the immediate results they can see from Juvéderm® injections. A combination of BOTOX® and Juvéderm® is a non-invasive way to turn back the clock on facial aging or erase those lines that make a person appear angry or tired," says Dr. Young.
Latisse® is an eyelash enhancement product and is the first FDA-approved medication to treat people with hypotrichosis, a condition where people have far too few eyelashes. "Latisse® is a popular product with our patients as it helps lashes become more luxurious and full which is especially important for patients who have too few lashes to begin with, or have lost lash volume due to aging," adds Dr. Young.
"Our entire staff is committed to providing exceptional patient care and this recognition validates the combined efforts of our staff members from our receptionists to our physicians. Each staff member interacts and cares for a patient through their entire experience at Young Medical Spa®," notes Dr. Young.
About Thomas E. Young, M.D.
Thomas E. Young, M.D. is the Owner and Medical Director of Young Medical Spa®. He began performing SmartLipo™ soon after it's FDA approval and was the first physician to introduce awake tumescent laser liposuction to the Lehigh Valley and is also one of the few physicians in the U.S. trained to perform Stem Cell Enhanced Natural Breast Augmentation and has his own Stem Cell Processing Laboratories in each office location.
Dr. Young also was the first physician to perform Vaser® LipoSelection, SlimLipo™, Liposonix®, Cellulaze™, Stem Cell Enriched Fat Transfer Natural Breast Augmentation, Stem Cell Face Lift, Brazilian Butt Lift, NeoGraft Hair Restoration, Vampire Facial™, and the Vampire FaceLift® Procedure™ in the region and trains other physicians from across the Country in awake tumescent liposuction procedures. He has performed well over 2500 procedures and is a Speaker for Palomar Medical and Cynosure laser companies.
Dr. Young is Double Board-Certified by the American Board of Internal Medicine, is a native of the Lehigh Valley, and has been practicing medicine in the Valley for over 20 years. He has extensive experience in cosmetic injectable procedures, is a Diamond Level Provider for Botox® and a Premier Provider for Radiesse®.
He received an award for "Best Overall Body Makeover (a combination of procedures)" at "THE Aesthetic Awards™" during "THE Aesthetic Show™" in Las Vegas, NV. He was also voted "Leading Aesthetic Physician" in the 2011, 2012 and 2013 "Who's Who in Business" for the Lehigh Valley, and was twice voted "Best Aesthetic Physician" by Lehigh Valley Magazine's "Best of the Valley" Readers Poll.
He is a member of the American Academy of Cosmetic Surgery, American Academy of Cosmetic Physicians, American Medical Association, a Fellow of the American Society for Laser Medicine and Surgery, and other associations of importance.
To better serve the needs of his patients, Dr. Young also opened Doctor TattAway, LLC in Bethlehem, PA, a laser clinic dedicated to the removal of tattoos and unwanted body hair.
About Young Medical Spa®
In addition to being voted "Best Medical Spa" in the 2011, 2012 and 2013 Morning Call's "Readers' Choice Awards", Young Medical Spa® also was voted "One of the Top Ten Medical Spas in the U.S." by SpaFinder.
Young Medical Spa® provides the latest in cosmetic medical treatments and personalized programs so that each patient's needs are addressed on an individual basis. Services include: Stem Cell Enriched Fat Transfer Natural Breast Augmentation, SmartLipo™, SlimLipo™, Vaser® LipoSelection, CoolSculpting®, Liposonix®, Cellulaze™, ZERONA™, VelaShape™, NeoGraft Hair Restoration, Pain-Free Laser Hair Reduction, Laser Vein Removal, Sclerotherapy, Fractional™ & TotalFX CO2 Laser Skin Resurfacing, Pellevé Skin Tightening, IPL Photo Facials, BOTOX®, Dysport®, PRP (Platelet Rich Plasma), Juvéderm™, Restylane®, Perlane®, Radiesse®, ArteFill® and Belotero®. Young Medical Spa® also offers a variety of facials, chemical peels, and DiamondTip™ microdermabrasion.
Consultations are complimentary and financing is available. For more information on laser tattoo removal, visit http://www.DrTattAway.net. For more information on NeoGraft™ Hair Restoration, please visit http://www.lehighvalleyhairtransplant.com, or call the Center Valley office at 610-798-7546 (SKIN), the Lansdale office at 215-362-7546 (DOC SKIN), or the King of Prussia office at 484-684-6650.